We were considering putting our house on the market and we knew that there was no-way, Jose! that we could allow any one in the kids bathroom the way it was! Time for a bathroom makeover!!!!
We decided to start in the kid's bathroom because it's a small do-able and completely finish-able project.
A typical small, second bathroom set-up with one exception. This one has a wall & door separating the sink & tub/toilet areas. The door in the middle is a complete pain in the butt, however, it really makes the bathroom much more usable for 2 teenage girls! One can be in the shower & the other one can still brush her teeth without too much drama.
I wanted to make this bathroom more appealing to buyers & do my best to make it not seem too crowded. After all, that is one of the most common tips for selling your home. Neutral paint & organization have the most impact for small bathroom makeovers. And while I wanted to use neutral colors, I didn't want it to lack charm.
First thing to tackle was the paint.
We repainted the ceiling Dove White from Benjamin Moore, painted the wall color Swiss Coffee (BM), and the stripe is Classic Gray (BM), The trim was repainted as well in the White Dove color.
The wide horizontal stripe was simple to do on the walls & it reflects into the mirror so it gives it a feeling of expanding the room. You can find the tutorial on How to Paint Stripes on a Wall here.
Neutral paint colors don't have to mean boring, bland, and impersonal. Your goal is to make the space appealing to as many buyers as possible, and bland doesn't usually do the trick!
One of the biggest improvements in this bathroom was the shelf above the toilet that hubby built. He found the plans for this bathroom shelf over at Dad Built This.  Since this is such a small space, we needed to take better advantage of that vertical wall space above the toilet. Before we had an inexpensive metal shelf here.
I knew I was going to replace it with something better quality because it had turned rusty due to the fact that it's in a fairly humid environment.  Everything I found was either particle board, mdf, or metal – none were up for the task!
That's when I turned to Mr. Fixit 😉 Santa brought him some brand new Kreg tools for Christmas so this was just the project to get him started! This shelf is perfect to store all kinds of stuff on the wall when you don't have much room to work with. You can also see how it makes the space feel bigger! Adding this vertical storage is one of the keys to this bathroom makeover.
The shower curtain & rod is new also. Both are from Bed Bath & Beyond. I selected the white tension shower curtain rod instead of replacing the rusting metal one. The gray shell geometric stripe shower curtain was on the pricier side ($80), but it will come with us to the new house. I also upgraded to a fabric liner instead of the plastic so that I can throw it in the wash instead of the trash every few months.
Other things we did in here was to re-do the caulking around the shower/tub & cleaned everything (OMG teen girls are dirty!).
Lighting in your home makes a big impact on the way potential buyers view your home, but it's one of those things that isn't something that they can usually identify. Dim or dingy lights will make the room feel dirty and unclean – even if it's not.
In this bathroom, we didn't think it was worth it to upgrade the light fixture in the shower area, but we did clean the diffuser and put a new light bulb in, which made a huge difference.
Another thing that makes a huge difference is organization. And in this bathroom (that 2 teenage girls use) I need it to be practical.  Keeping it simple because I know that they won't put the stuff that they use every day away, I bought this inexpensive white plastic basket from Target to "corral" their daily use products.
I also bought these two hand towel rings   from Amazon, and embroidered some circle monogrammed towels for them. (Available for order in my Etsy shop!)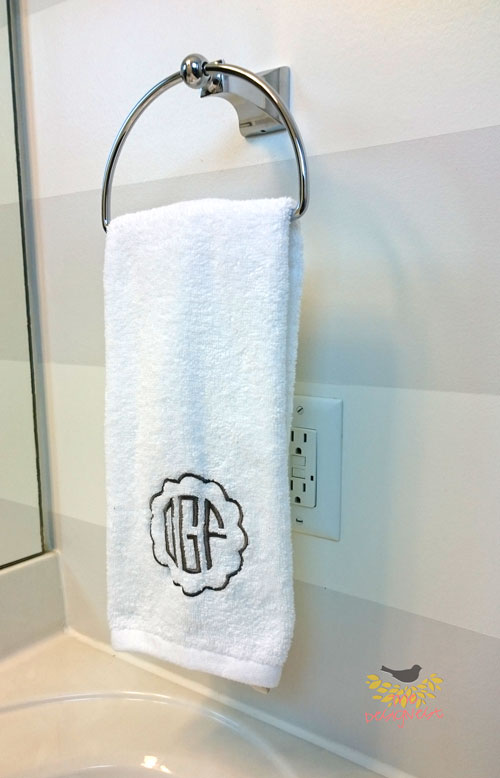 To get the sink & cabinet area cleaned up and organized, first I had to go through all of the cabinets and drawers to get rid of stuff that they didn't need or use anymore.  After I did that and could see what was left, I knew what kind of under cabinet organization stuff to look for.
At first I thought I was going to need a something to put on the doors to hold things like brushes or headbands, but after I went through everything and saw what was left, I realized that I didn't really need that, I just needed a couple of baskets to help them contain their stuff under the sink.
I'm really happy with the way that this bathroom makeover has turned out. I think it has been money and time well spent. Overall I would estimate that we spent around $300 on everything from the paint to the organizers, wood, and shower curtains.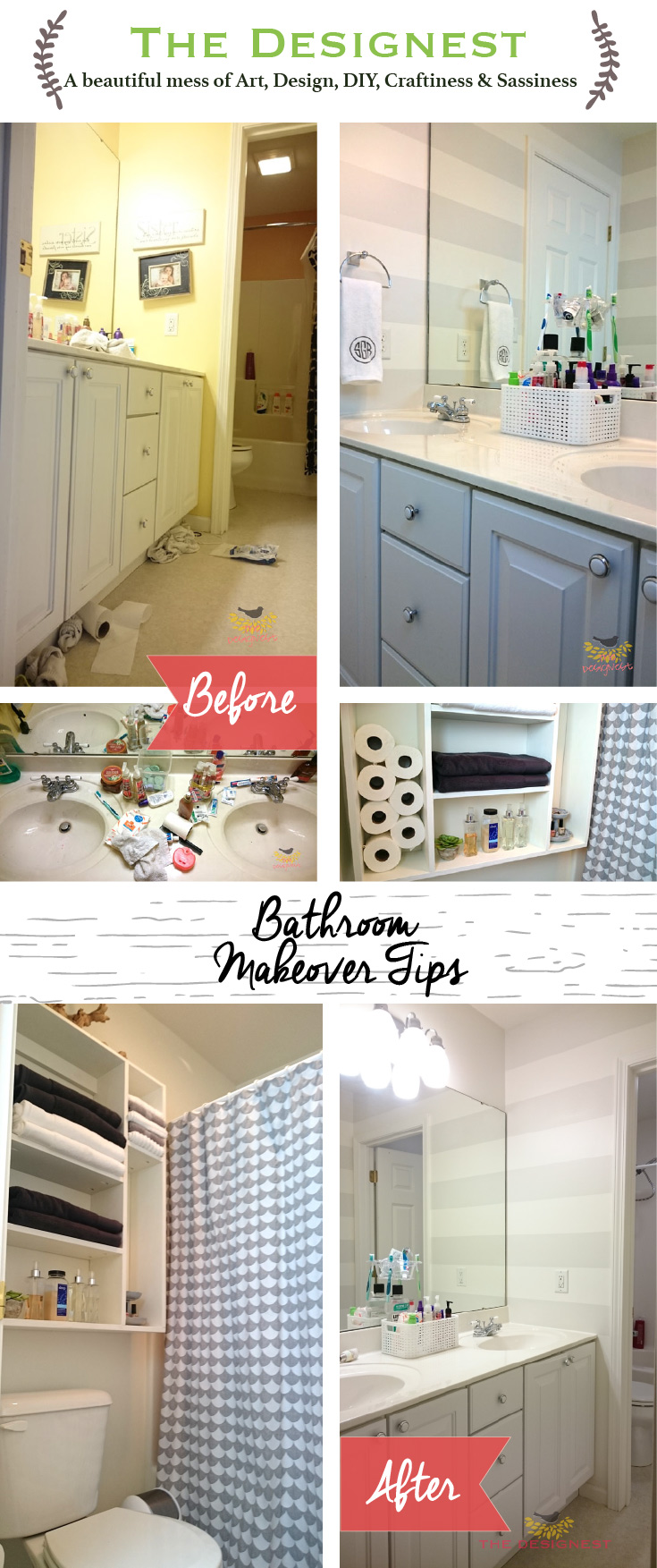 Hi, I'm Robin, founder of The Designest, the place for tutorials, printables, and ideas to inspire you to create. A wife, mother, entrepreneur, and a true maker at heart. Most days you will find me in my studio listening to Spotify & making products for The Designest Shop.