Good Morning Chickadees! I wanted to share with you a quick How To on painting stripes on walls. We recently did a bathroom makeover in our kid's bathroom as we are getting our house ready for sale. It turned out great.
The reason I wanted to paint these wide stripes on the walls is to give the effect of widening up the room and I feel like it did just that. At first I just painted stripes on the wall opposite the large mirror because I knew that it would be mirrored and I didn't think that the small side walls would have much effect. I quickly realized that it was going to be necessary to go ahead and paint the short walls as well.
Not a big deal, but just required a bit more time. The paint colors I chose for the room are all shades of white. One is a cooler color – Classic Gray, and the other is a warm tone – Swiss Coffee. The lighting in the room reads more yellow, so using that cool tone gray really helps the balance. These two colors are really subtle and neutral.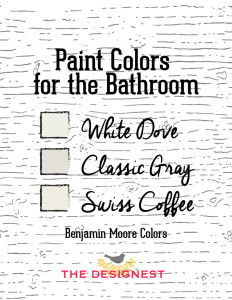 In this small bathroom, I wanted to go for a feeling of clean & fuctional, but with sophistication. Something that another family could easily envision their kids and/or guests using.
TIP: Before painting your base color, lightly sand your wall. I found out about this handy tool when I hired a professional painter for a project. It serves to lightly sand the wall, knock down anything that may be sticking on the wall & give you a good surface for the new paint to bond to.
How to Paint Stripes on a Wall
STEP 1: Paint your entire wall one of the colors. If you have two very contrasting colors, paint the lightest color over the whole wall first. It is easier to use a dark paint to cover a lighter paint than it is to cover dark paint with light.
STEP 2: Determine the size of your stripes & make a template. I used a 7″ stripe & used a piece of poster board to make the template.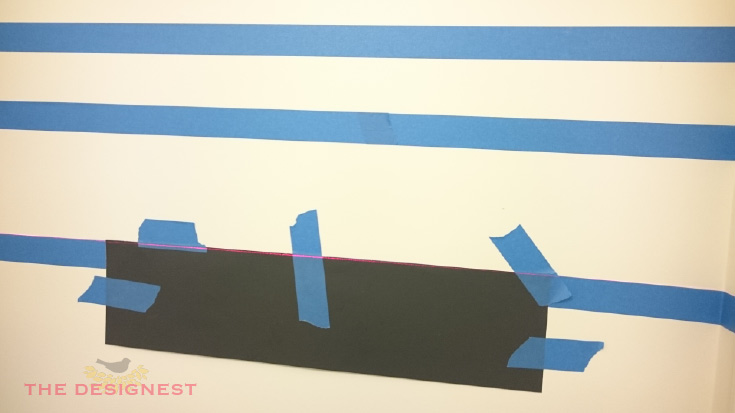 STEP 3:  Create a level line on the wall. I used a laser level & then double checked that line with a regular level. Use painters tape to mask off this line.  Repeat until the entire wall is taped off.
STEP 4:  Use a credit card or something with a flat surface to seal the edges of your tape. This is very important! There are little pockets of air along the edges of your tape and unless you push them out, it will allow paint to gather in them and you won't get a clean line when you remove the tape.
STEP 5:  Just in case there are small pockets of air underneath that seal of tape, you want to lightly paint over the seam with the base wall color paint. This creates a perfect line when you remove the tape later on. THIS STEP IS VERY IMPORTANT!
STEP 6: Carefully paint your stripes in the second color. You will need to use a paint brush to edge, but if you can, I recommend using a roller to deliver most of the paint. Doing this ensures a more unified look on the wall because the other stripes will not show brush marks and will have a slight bit of an orange peel texture & you want the same for these stripes.
STEP 7: This part is so. much. fun. Peeling off the tape!! But WAIT, before you do, take a look at each seam & make sure that you've covered everything. (I needed to do 2 coats even on these minimally different paint colors) Once you peel this tape off, it's gonna be realllllly difficult to get it back up there perfectly. So be sure before you do!
That's it! Just take your time when you are taping off your lines. It's actually the most important part, the painting part is simple, the taping is what is going to make it look like a professional paint job.
Some more snaps of painting stripes 😉