I am always looking for new fall decorating ideas, but don't like to spend lots of money on more Halloween decorations. This year I was able to create a whole new look for my mantle under $20! Come & see my new burlap memo board, bunting, & fall decorations …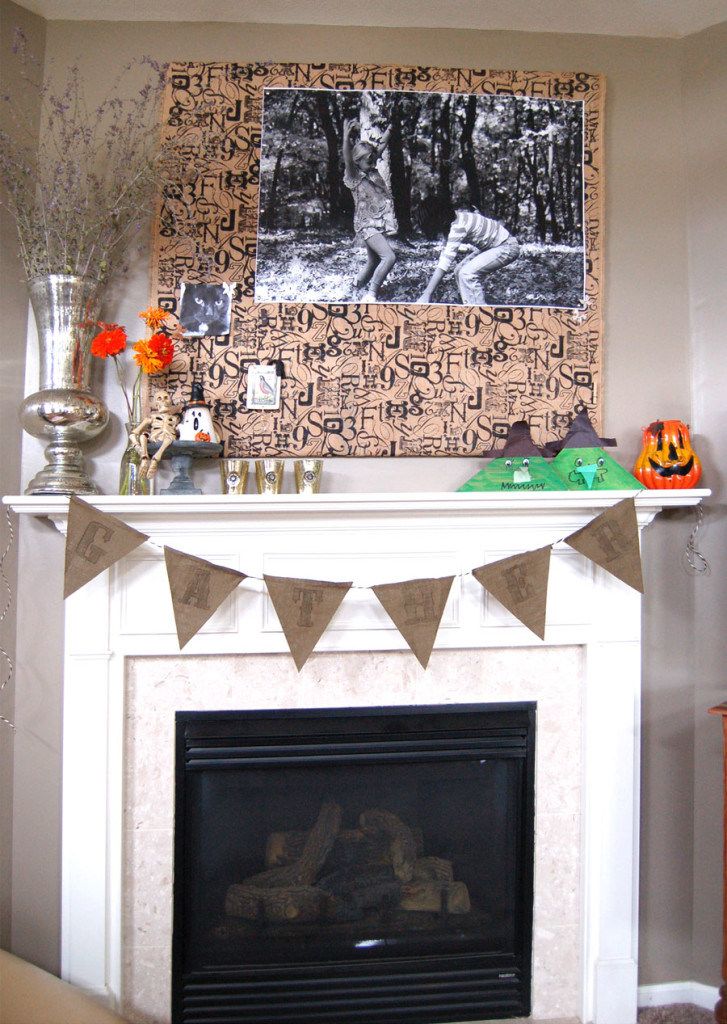 The holidays are all about family at our house and I love getting out their kindergarten projects and using them for decorations. Throuout the year, I don't usually keep stuff like that out so it makes it even more special and nostalgic to bring them out for Halloween, Thanksgiving & Christmas.
These green witches are one of my favorites that my daughters made in school. These lovely ladies make their appearance every year. This year they have a starring role on my fireplace mantle. I bet if you look around your house you will find you already have the supplies to make these!
 To make some kids halloween art of your own, all you'll need is a triangle block of wood, green paint, googlie eyes, black sharpie marker, and black cardstock or construction paper. I know you'll want to keep these girls around for a while so be sure to put the kid's name and year on them. Ours are from 2004 & 2006!
Who doesn't love a little subway art these days? So easy! I made it even easier for you guys .. just go to my Free Fall Printable post to find this one pictured here. I printed it on a piece of card stock, stuck it in an old oak wood frame that I had chalk painted recently.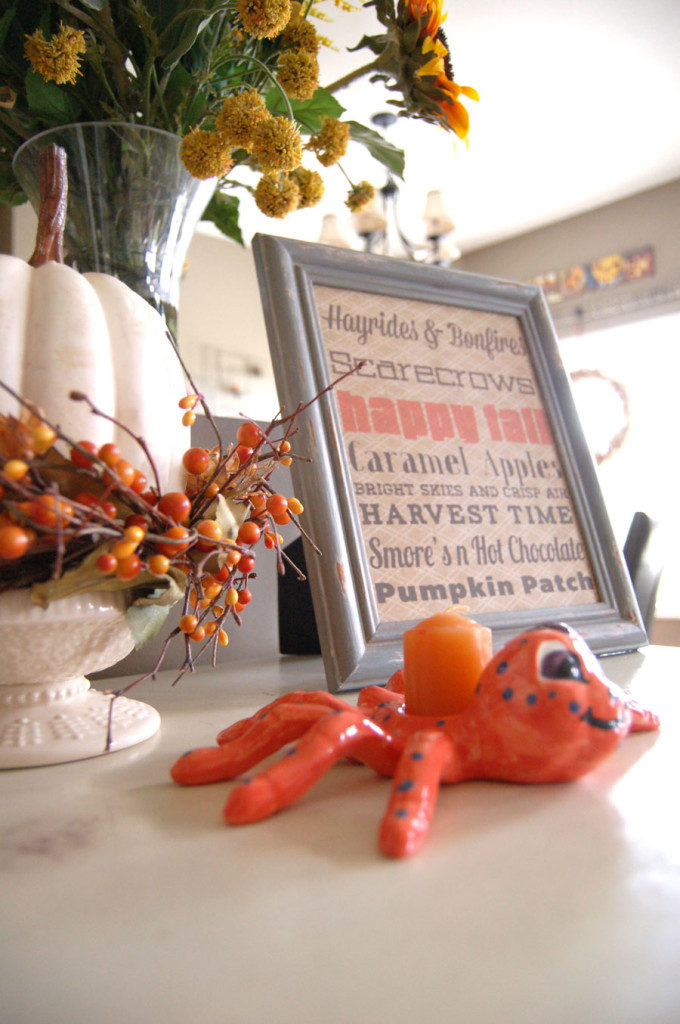 These are a few treasures from my Halloween decorating stash. I just changed things up a bit this year with a new grouping.
One of the things that I love to do is to create little vignettes within a grouping. So pairing this skeleton with a cute little candle ghost just creates a little bit more interest when you look closer. I keep thinking I need to make a little miniature necklace or sign that says 'Soul Mates'. Wouldn't that be adorable?
Here is a closer look at the burlap memo board I put above our fireplace mantle.
This was so simple to create & really inexpensive too. I'm working on a how -to post for it and will get in up in the next couple of days. It is where I spent the bulk of my $20 Fall decorating budget, and I don't think it looks like it was that cheap! Some printed burlap from Hobby Lobby $7.48, a picture printed at Office Max printing services $3.20, 1/2 sheet foam board $5.00, push pins $1.00, misc scrapbook supplies (from stash).
One of the things I love about it is that I can add more pictures in the coming weeks. You can see a picture of one of our cats, Sterling but our other kitty is shy and I haven't been able to capture a good close up picture of her yet.
And some more pictures of my fall decorations ..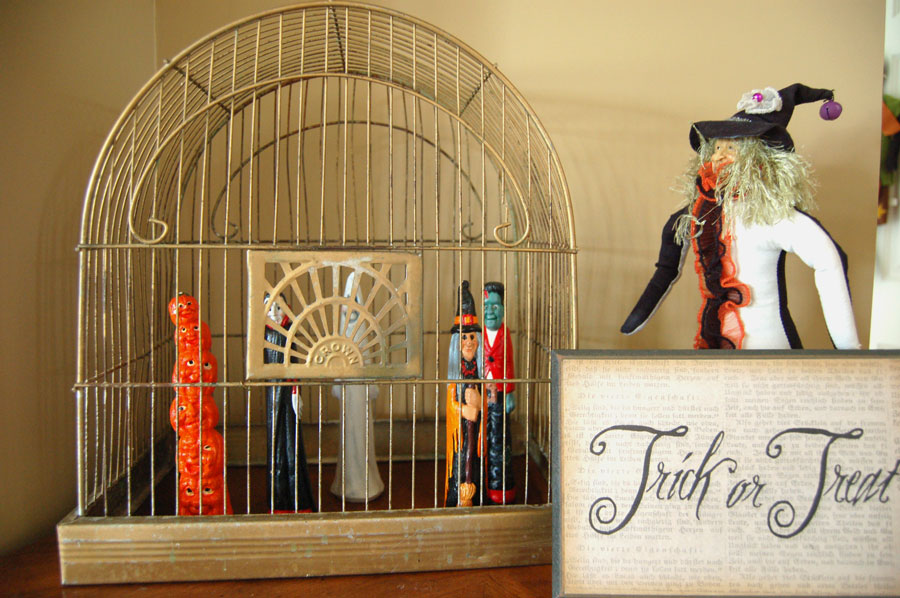 Some more family art projects. The Halloween characters were painted by my Mother-in-Law, and I picked up the bird cage (or jail) from the Goodwill a few weeks back (it was something around 50 cents!).
 Loving the orange zinnias from my garden – FREE. Most of the other colors are burnt up, but these bright red-orange ones are still going strong. Hope they last through Halloween! I also snipped a bunch of my russian sage and put it in the mercury glass vase. If you don't have any flowers, branches and dried grasses work great this time of year too.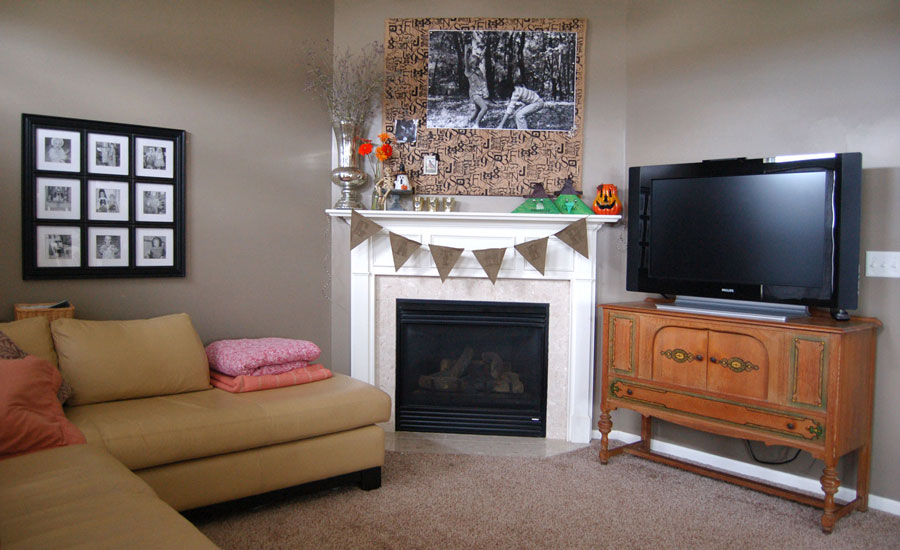 The 'GATHER' bunting was made with some leftover green fabric that I found and the jute that I bought at Hobby Lobby for $2.00. I also used the jute twine in a couple other places ..
This year I can truly say that I only spent around $20 on new supplies for Halloween decorating! (Let's NOT include the outdoor Fall decorating, shall we? 😉)
If you liked this post, you can Pin It for next year too!
Linking up to: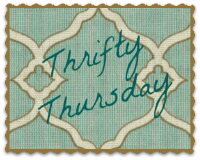 Hi, I'm Robin, founder of The Designest, the place for tutorials, printables, and ideas to inspire you to create. A wife, mother, entrepreneur, and a true maker at heart. Most days you will find me in my studio listening to Spotify & making products for The Designest Shop.