Many years ago when we started looking for floor plans, the thing that sold me on this house was the front porch. Our very first house had a nice deep porch just like this one. Except, it was falling apart and I half expected to fall through it every time I went out there! This one, thankfully, has a concrete surface, so no chance of that rotting away any time soon.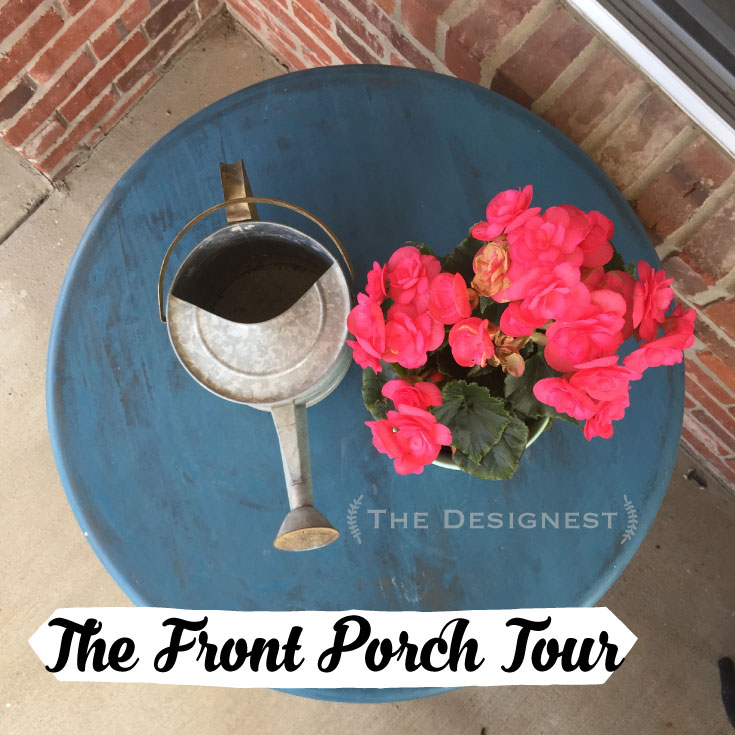 This is one of my favorite places in the house to find a minute or two of peace and quiet. This summer hasn't been too hot yet, and that means that I've been on top of keeping the hanging baskets and container plants watered. They aren't dead yet, so I figured it was a great time to take some photos & show you around.
Who doesn't love a double begonia? It's one of my very favorites …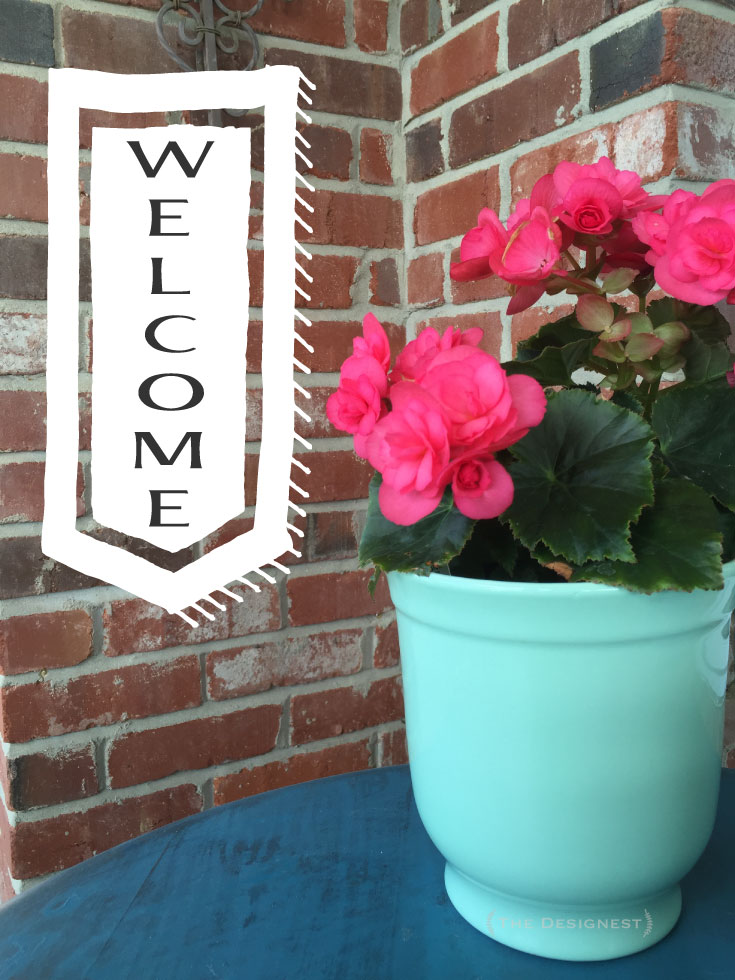 In this picture you can see a bit of the table that I refinished with milk paint (Miss Mustard Seed Flow Blue).
You know when you've travelled to another part of the country and when you come home … that first sight of your house … it's like a big hug. That is probably why the front porch means so much to me. Because it's the first thing I see when I come home.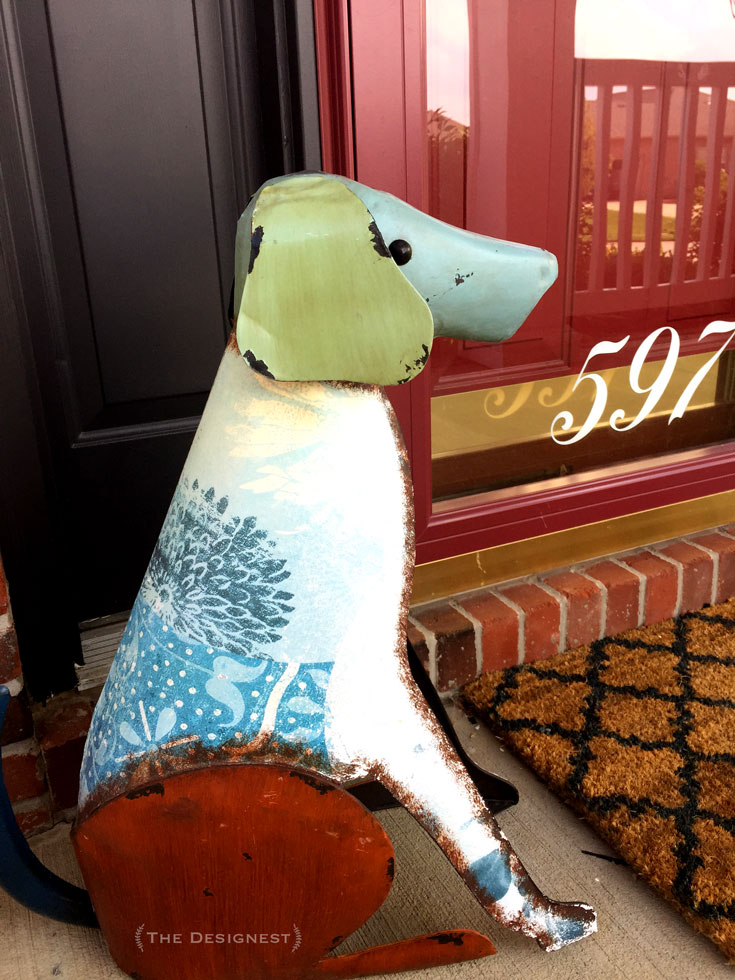 It's our sanctuary, and when we've been gone for a few days or a week, it is comforting to turn the corner and see it standing there, welcoming us home.
Out here you will find deep seating that sometimes double as a good napping place. When we first moved in, I had plans to put a porch swing up, because every front porch needs a swing, right? Well, I tried, but it just didn't work out. For some reason, I didn't really love it, so instead we've put a small outdoor love seat & 2 side chairs out here that seem to work well.
My color palate out here is pretty classic. A reddish brick, black shutters, white trim.  Reds, Blues & yellows dominate the fabric patterns, and even the plants that I've put in.
Petunias … another classic! I can remember my Mom buying these when I was a kid. They are one of my favorite annuals to plant simply because of their abundance of flowers. Unfortunately these never make it to the end of the Fall season because I inevitably give up on watering them sometime in late August.
The outdoor seating that I have out here is probably 8 years old. The cushions have been recovered twice now. Those things are ridiculously expensive to replace so I just keep adding foam & changing the fabric out. I love how deep the seats are on these because you can settle in and read a book out here.
This concrete fountain is kind of a favorite of mine. I found it on craigslist for $25. Nope, it doesn't work, but some years I throw some of the stone rose plant in here. I think I love it more because it doesn't work, ya know. 😉
and here are some of the other plants around here …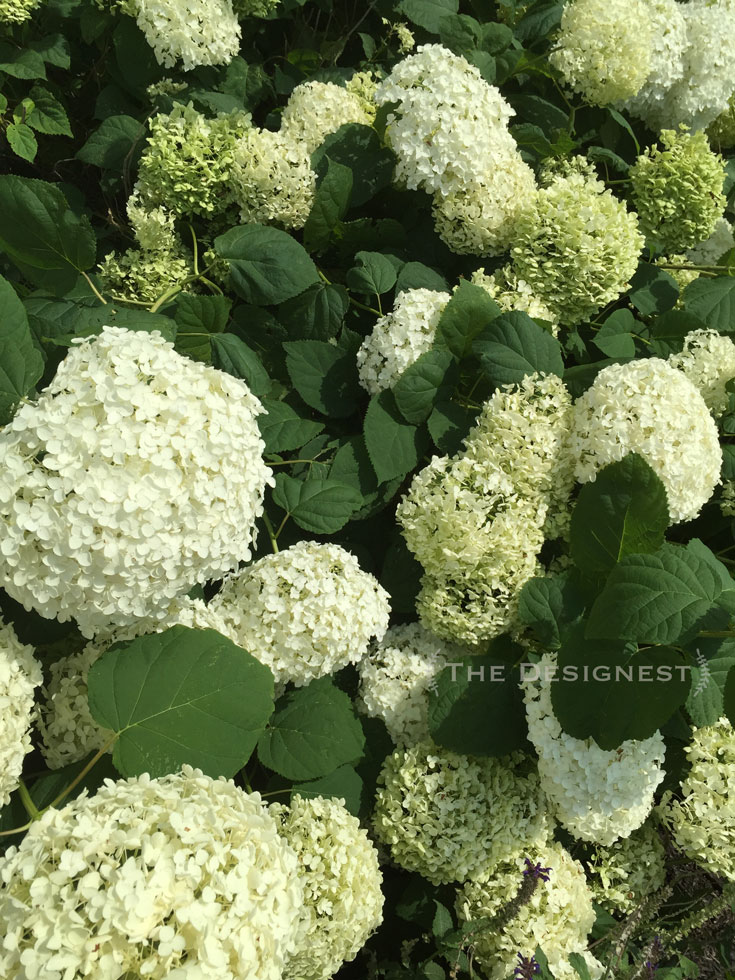 Annabelle Hydrangea
Lavender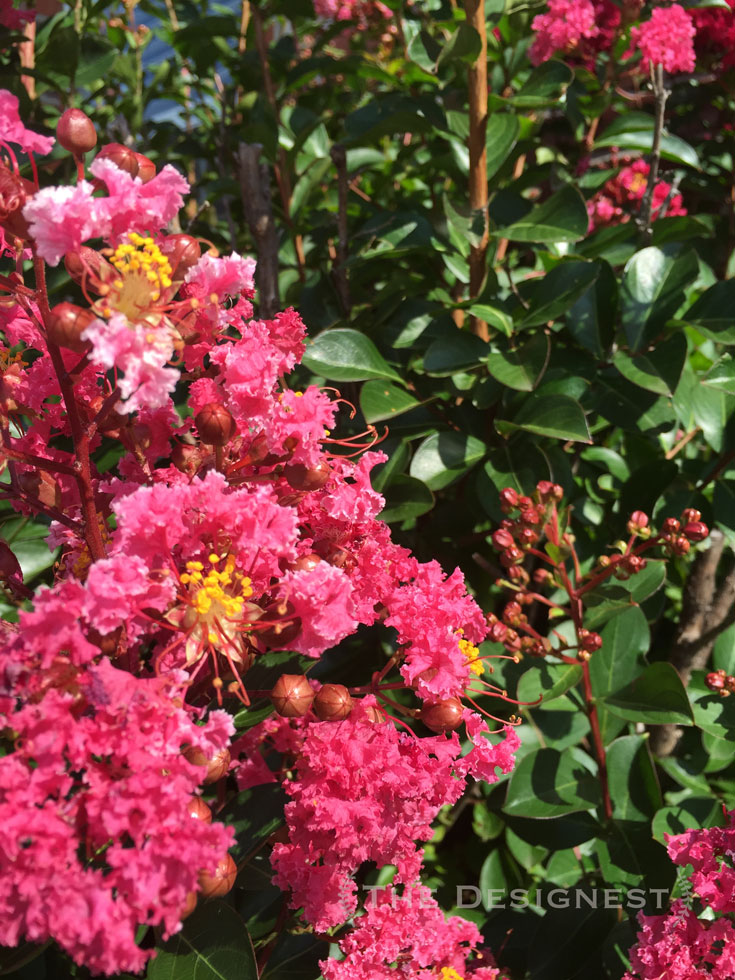 Crepe Myrtle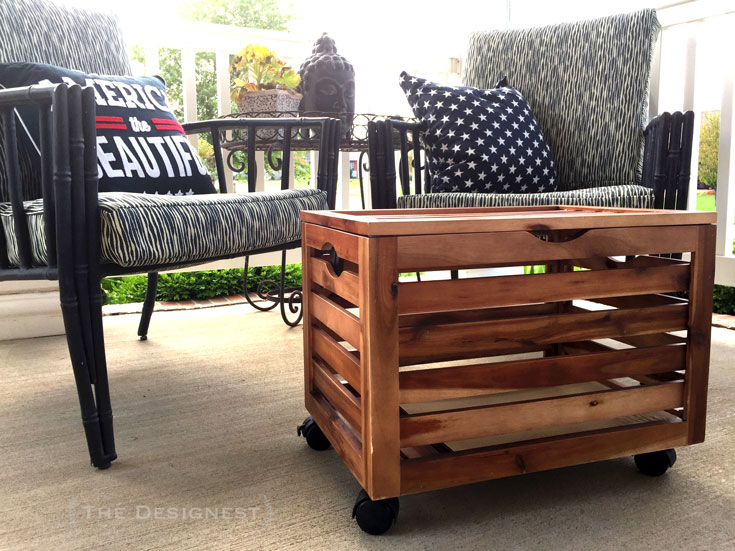 Hi, I'm Robin, founder of The Designest, the place for tutorials, printables, and ideas to inspire you to create. A wife, mother, entrepreneur, and a true maker at heart. Most days you will find me in my studio listening to Spotify & making products for The Designest Shop.