I've made plenty of design boards in the past, but honestly they've always been for clients. For myself, I kind of just gather things in my head. It works well when I am designing a room for my own home, but for the new year, I am getting my business thoughts and ideas more organized. A reminder & guide to help me stay on track!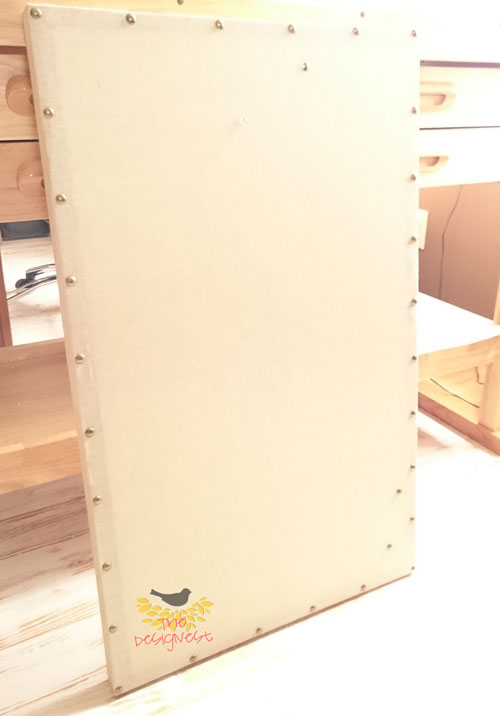 This simple memo board has been hanging out in a corner in my office for months now because I have little to no wall space left in here! The walls near my desk are completely covered with bookcases making it impossible to hang it anywhere.
Then I had an idea to hang it on a sliding track in front of the bookshelf. Something like this …
After doing a search for 'sliding front bookcase' and 'Ikea Billy sliding door' and so on, I realized that there wasn't anything out there that I could add onto the Billy bookcases in the office already.
So I asked Mr. Handyman for any ideas & as I'm holding the memo board up in front of the cube shelves that he made me several years ago, I realized that I could just have him tack a couple nails in it and hang this baby up.
Much easier install!
The stuff on the shelves behind the bookcase aren't things I use on a day to day basis so I think it should work fine. I can easily take the bulletin board down when I need to get to the stuff behind it.
I still think my idea for a rod on the top of the Billy bookshelves is a good one! I see it as being a track system that can be installed on the top of the bookcases with something like small wreath hanger hooks on wheels that can be used to slide a bulletin board back and forth.
It's a blank canvas right now, but I can wait to fill it up with beautiful things in the days and weeks ahead!

Hi, I'm Robin, founder of The Designest, the place for tutorials, printables, and ideas to inspire you to create. A wife, mother, entrepreneur, and a true maker at heart. Most days you will find me in my studio listening to Spotify & making products for The Designest Shop.