Learning how to paint online wasn't ever something that occurred to me until I started seeing people in a creative Facebook group started posting over their excitement for signing up for this new course that was taught by
artist Flora Bowley
. One look at her work and I was interested. Skeptical too, but curious enough to start thinking about signing up for her online painting course. Honestly, I didn't think it was something that was teachable. It was one of those beliefs that said
'Talent is given, and to create a painting, you need talent.'
You might consider yourself creative but still feel that you could never paint a canvas. That's how I felt anyway. Those talented folks – the people who put paint on canvas – they were what I called a True Artist. The kind of creative things that I was comfortable with claiming, wouldn't be put in the fine arts category so much as it would be called crafting.
Nothing about this first layer on my first canvas felt right. It was highly uncomfortable to even put these first bits of paint on the canvas!
A few years earlier I had started
The Artists Way book
 & journal. I distinctly remember writing that I've always wanted to be an artist who paints but that I was too scared to even think about it. There is something about acknowledging a fear that makes it less scary, and you feel like you can conquer it.
In half a second it went from fear to challenge.  Like I could say to myself, look  … this is what you want to do, just do it. Nothing is stopping you. Before, it was just this half-wish / half-negative thought that said… You aren't good enough to make something beautiful or meaningful on a piece of canvas. And now, it was calling my name, & everywhere I turned there were little reminders popping up. Funny how that works, eh?
Maybe you have felt the same? You've probably never even said to yourself 'Hey, I want to learn how to paint art.", but there is something intriguing about it, something that makes you curious about reading more. Because, let's face it, if you didn't have the slightest desire, you wouldn't have made it this far into this blog post!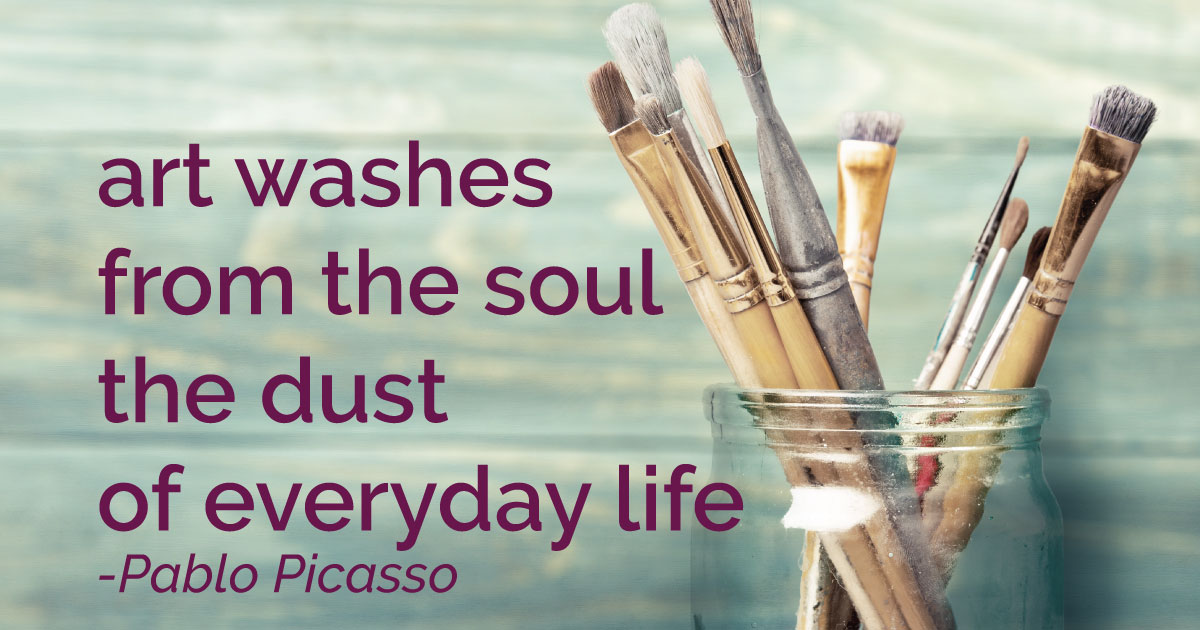 Learning How to Paint Online
Maybe what led you here was a search for online painting classes. There would be NO WAY IN HELL I would do this in front of a classroom full of people! But that's just my introverted self talking. ?  Especially for something like this, the thing that I loved about it was that I could do from the privacy of my own home, but still learn from an inspiring, encouraging, & expert teacher.
I was inspired by Flora's method of painting because it allowed and encouraged you to mess up. To not be perfect. You don't need to have an image or scene in mind. You can use emotion & and feeling and it becomes layers and layers of you. In the end you are creating a piece that has hidden layers and pieces of frozen moments of time. Some things shine through and others are under the surface – both are important.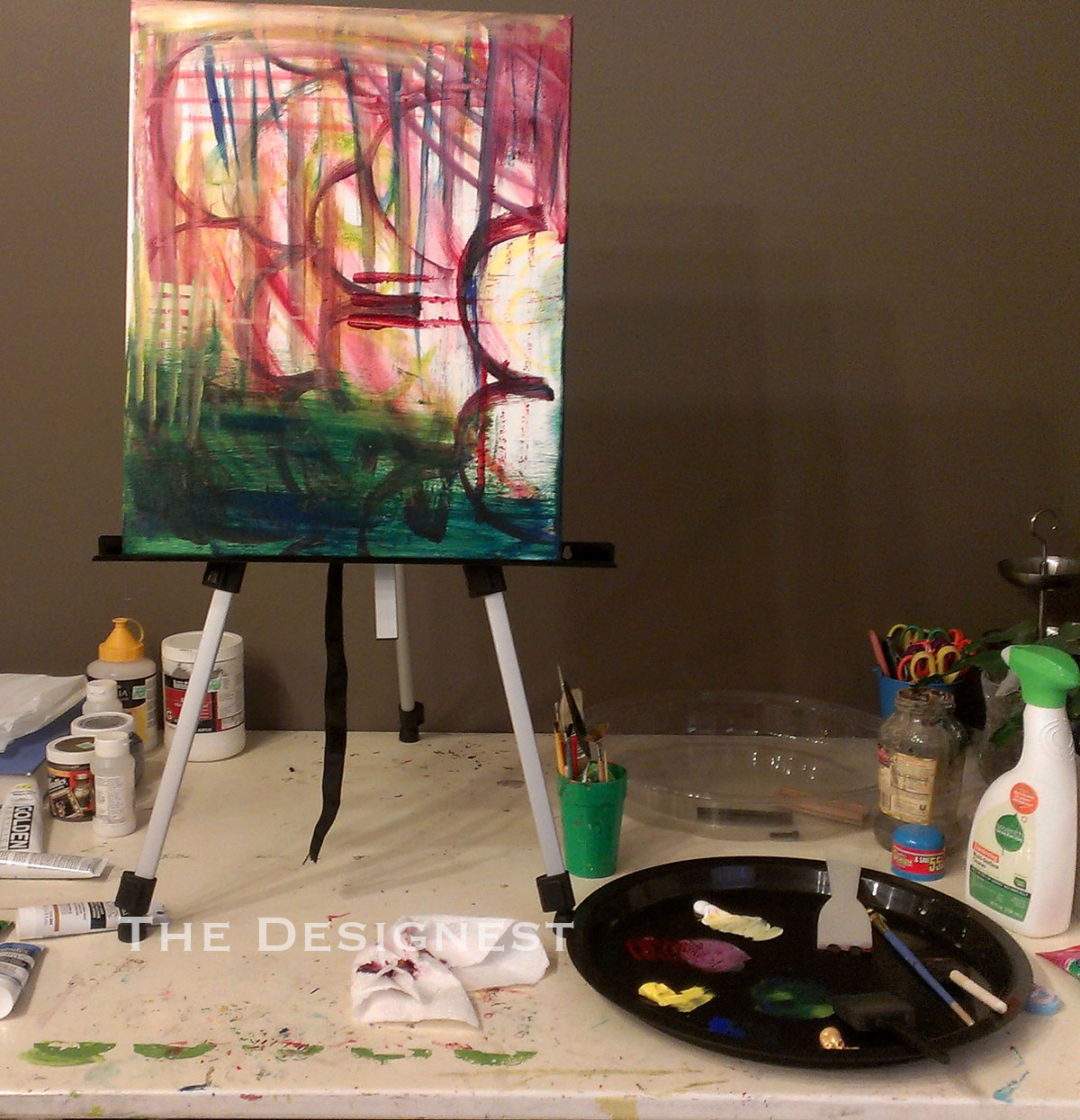 There were days like this … I wanted to just paint over it all and start over!!!!
(You can see the finished painting below, titled MAKER.)
My Bloom True Review
If you couldn't tell already, I'm a fan of the course (and the links in this post are affiliate links). There is more to this course than what tools to use and paints to buy & how to paint a flower. If that is what you are looking for in an online painting class, this probably isn't for you. Of course, you do get a supplies list (yeah, art supplies!) & she delves deeply into her method and how to paint, it's not what this e-course is about. I would say it's closer to a meditation or art therapy course than it is to a How To class.
When I took the Bloom True course, we also had Facebook group that all of the participants for that session could join and share their work with fellow classmates. This created a very supportive environment which was nice because you definitely feel vulnerable sharing this kind of thing with close friends and family.
It's been a few years since I took this e-course, and I can't tell you how glad I am that I turned that fear of painting into courage. I don't paint with a purpose of selling my artwork … ever. In the beginning I told myself that NO ONE would ever see these if I didn't want them to. I needed to release myself from ANY kid of pressure. Now, I am proud to hang them above my mantel and share them with you on the blog. They are not Monet's or Van Goh's, but they have real meaning to me – even if they aren't perfect. In fact, because they aren't perfect, they mean a lot more.
This is the finished painting that I titled MAKER (the beginning layers are shown in the photo above).
These days, I use painting as sort of a reset button. When I feel like I'm struggling with my day to day creative life, I will set up a canvas and some paints to spark different parts of my brain. I love the business I have right now. I get to be creative, make things, and be my own boss. But that gets repetitive & lonely so I've found that challenging myself in other ways keeps me happy and interested in my business. Sparking another part of my brain is just plain healthy (so is exercise, but it's just not as fun ;))
If you are hearing little whispers of I want to paint, or find yourself picking up a bottle of acrylic paint in Hobby Lobby, you might want to
sign up for the Bloom True eCourse.
 You might surprise yourself with your art!
I love this quote from Becky Higgins  …  "Cultivate a good life & document it."
When she says this, she is referring to photographs & scrapbooking, but I think it's also applies to your home.  Cultivate a good life by experiencing, creating, & making. Document & remember it not just in your scrapbooks, but also in your living space. Your paintings, souvenirs, photographs and home decor should all work together to create a space that you love. 
They don't need to be masterpieces, full of perfection, but just the act of you hanging your own art on your own walls is an act of being brave.  And then there is this reminder, from Martha Graham …
There is a vitality, a life force, an energy, a quickening that is translated through you into action, and because there is only one of you in all of time, this expression is unique. And if you block it, it will never exist through any other medium and it will be lost. The world will not have it. It is not your business to determine how good it is nor how valuable nor how it compares with other expressions. It is your business to keep it yours clearly and directly, to keep the channel open. You do not even have to believe in yourself or your work. You have to keep yourself open and aware to the urges that motivate you. Keep the channel open. … No artist is pleased. [There is] no satisfaction whatever at any time. There is only a queer divine dissatisfaction, a blessed unrest that keeps us marching and makes us more alive than the others.

Hi, I'm Robin, founder of The Designest, the place for tutorials, printables, and ideas to inspire you to create. A wife, mother, entrepreneur, and a true maker at heart. Most days you will find me in my studio listening to Spotify & making products for The Designest Shop.