Many of you have been planting flowers, cleaning up yards, and spreading mulch to get bring your gardens back to life. We have been doing the same.  Flowers, a little dirt, and some fresh new paint = a cozy place on the the porch. One of the quickest ways to add interest & charm to a spot is to use a piece of painted furniture. Painted dressers on the front porch is sort of a trend I've been noticing around here.  I didn't have a dresser to paint, but I did have this nightstand we just replaced from our bedroom.
Have you guys noticed how much furniture is going for these days? Seriously. Initially I was going to put this guy in our yard sale, but when i started thinking about the porch, I thought that it could be the perfect side table to add. We are really fortunate to have this big porch that I can turn into another room for part of the year. This year, I'm finally getting around to making it what I dreamed of 12 years ago when we built this house.
I've had & used this nightstand for a very long time, like over 25 years. It was even a hand-me-down when I received it way back then & the top wasn't in that great of condition any more. But it is a solid piece of furniture so why not give it new life with a little bit of paint.
At first I had planned to go a more neutral route and paint it a classic vintage white, but when I opened my old can of paint, it had dried up. I have to admit, that is one thing I do not like about the chalk paints. They have a tendency to build up around the rim when you wipe off your paint brush and it starts to accumulate so much so that it is tough to get a good seal on the lid again.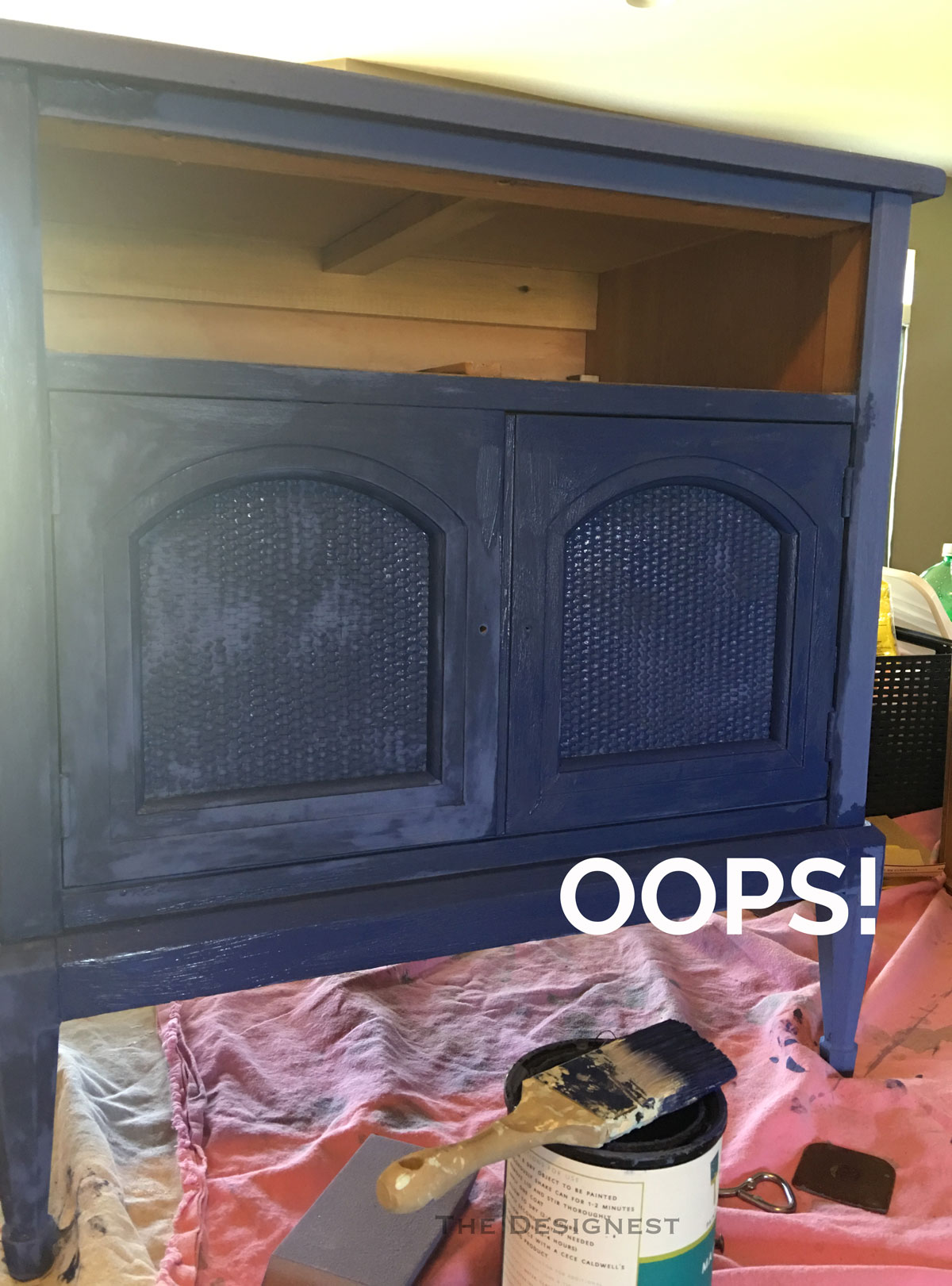 The one can I had left was this one by CeCe Caldwell called Maine Harbor Blue. I figured what the heck – it's a beautiful blue, let's GO FOR IT!  (By the way, I love this paint brush. I use this specific brand and style of paint brush on almost everything now – both walls and furniture.)
While I was mindlessly painting away, I closed both of the doors. Shoot! Of course then I was stumped as to how to get them back open as there was a magnetic latch holding them closed. I tried prying them open with that little Pampered Chef scraper (love those things too!) Didn't work. After a quick internet search, I realized I'm not the only one mindless while painting. One person recommended a metal bbq skewer. It worked well! Thanks internet.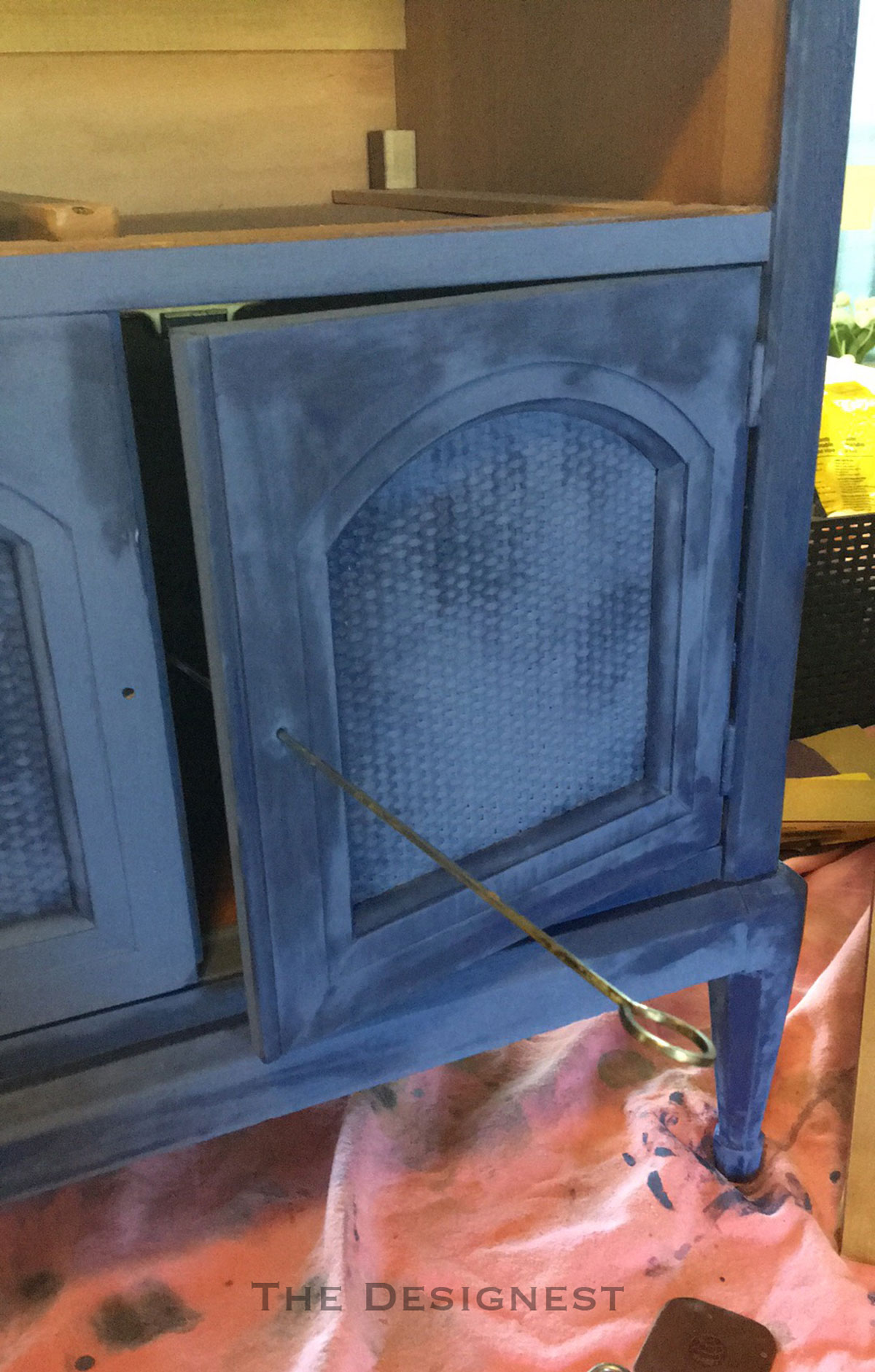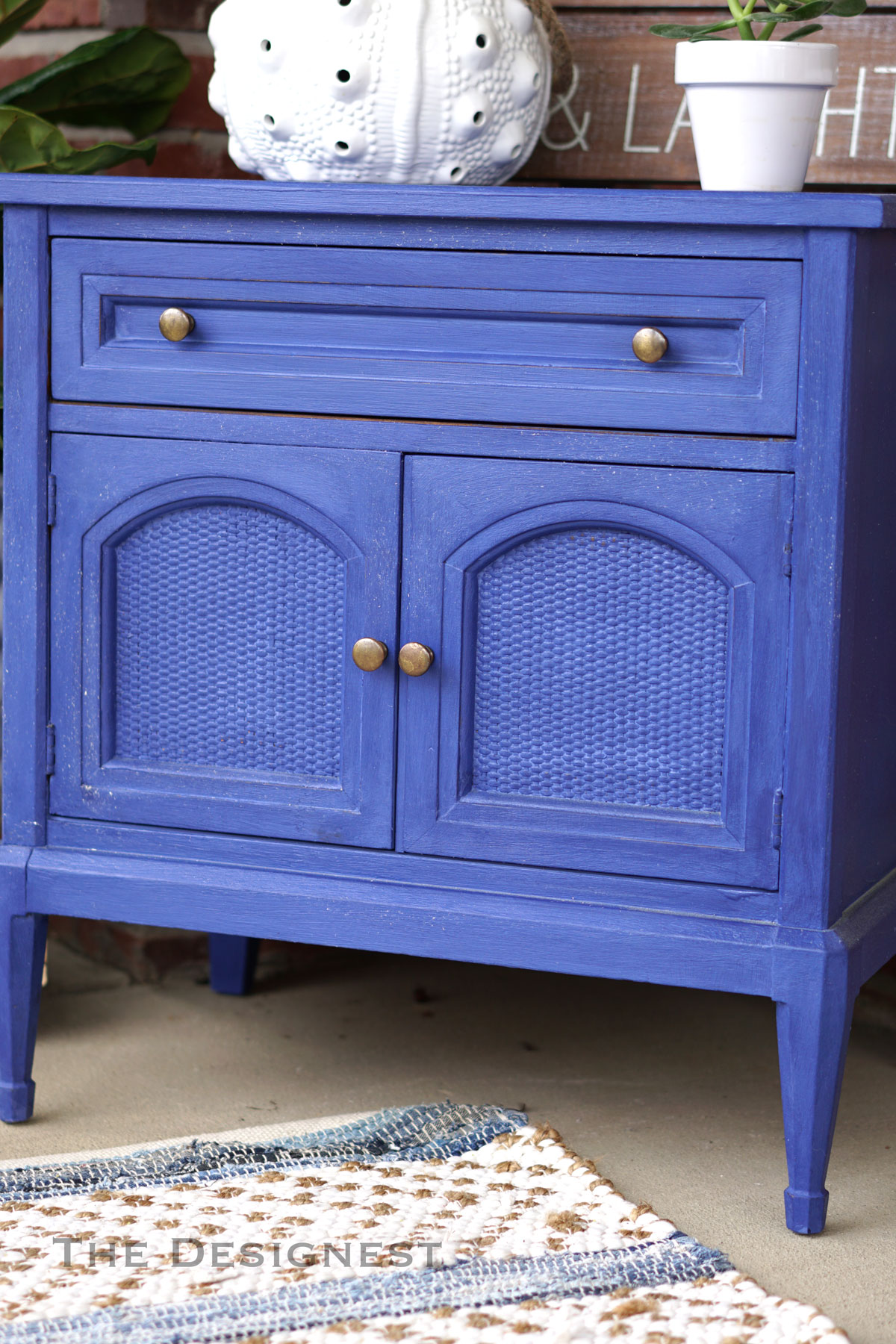 Painted Furniture Tips
– Even more important than sanding, you should clean the piece with a degreasing kind of soap. Dawn dish soap works well for this. I can't tell you how many times I've picked something up a yard sale, took it home, dusted it off & started painting it right away. There is almost always a spot that surfaces. It's especially noticeable when using any kind of chalk paint.
– Lightly sand between coats & use these tack cloths to pick up the sanded dust.
– On your final coat, use a spray bottle filled with water that has a fine mist setting. When you are painting, spray the water on the wet paint area you are working and it will reduce the appearance of the paint brush lines.
One of the selling points to use chalk paints is that they say you only need one coat. Every piece of painted furniture that I've only used one coat of chalk paint on has turned out badly when I waxed it. Before waxing it looked like there was solid, even coverage, but after, it was clear that some spots were thinner than others. Now, I always use 2-3 coats. This kind of paint dries really fast though so you can still get a project done in a day!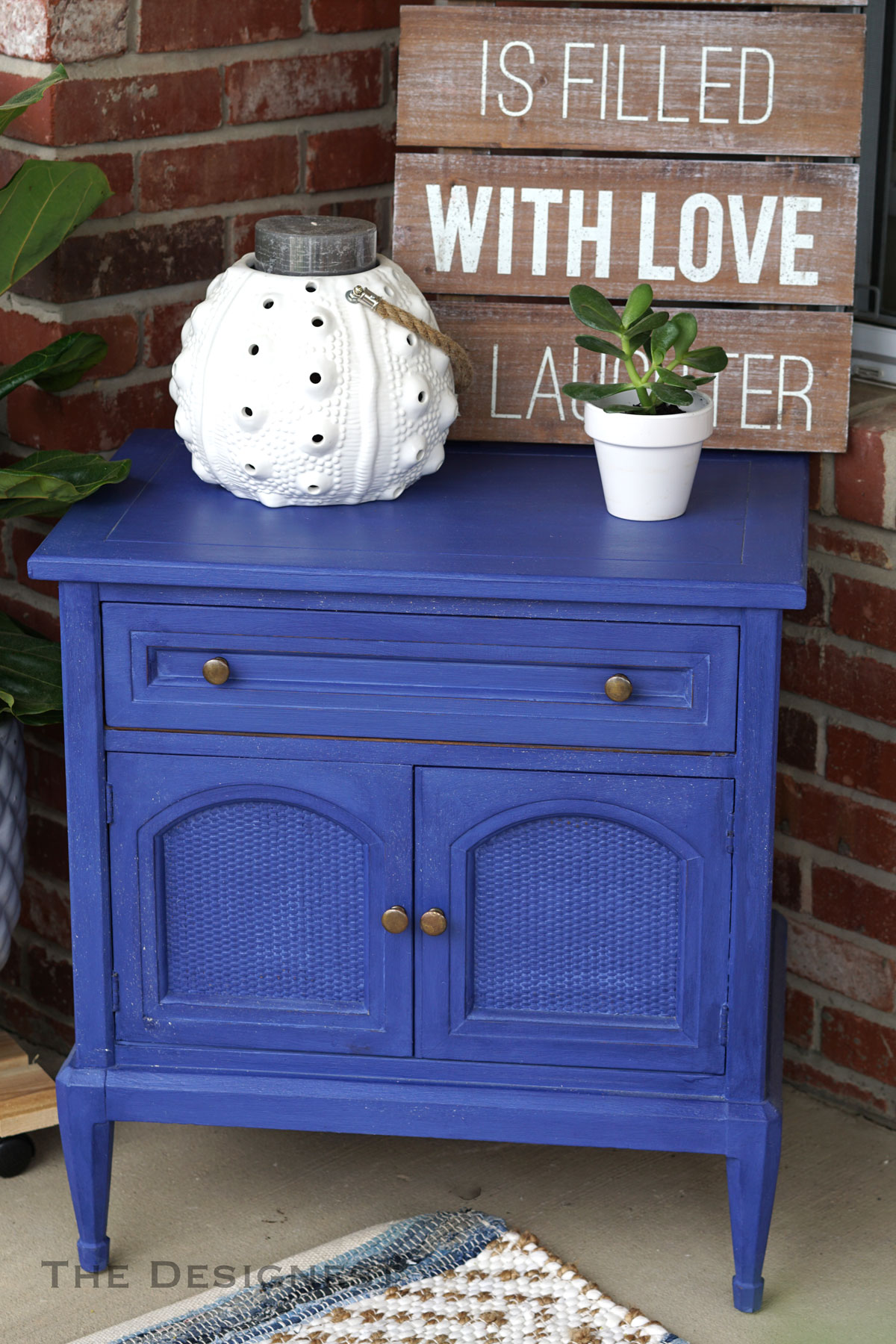 Normally I would have sealed this with furniture wax, but because it will be sitting on our porch – in the heat – I went with a wipe on poly. A waxed finish is so, so pretty but for this environment, it wouldn't be practical. The poly makes it more durable that won't be melting off in the middle of summer.
A bonus I didn't really consider when I was thinking of re-using this table was the storage. Now I have somewhere to keep my gardening shears, gloves, and other tools so that they are close when I need them.
Just the act of adding this piece of hand painted furniture, some plants, and decor – it has drawn us out of our rooms & offices a little bit more. I have to confess, I do bring my laptop out here, so it isn't really a tech-free zone, but there is something about it that makes life a little more relaxed when you are sitting on the porch.  ?

Hi, I'm Robin, founder of The Designest, the place for tutorials, printables, and ideas to inspire you to create. A wife, mother, entrepreneur, and a true maker at heart. Most days you will find me in my studio listening to Spotify & making products for The Designest Shop.