If you are new to sewing and quilting, the following list of quilting supplies is a great place to start when looking to bump up your sewing 'tool kit'. Like this post, pin it, and forward it to your loved ones who don't know what to get you for your birthday or Christmas, or just reward yourself with a treat every now and then.
Of course, the most important tool in my kit, is my sewing machine. Whether you have a basic model or a top of the line, won't matter in terms of My Favorite Things list. All of these quilting and sewing supplies will be useful to you.
If you've been sewing for a while, you may have some if not all of these. I am a self taught sewist/quilter and after using a couple of these tools, I wondered why it took me so long to find some of them.
I thought I'd do a quick review of them and let you know what my experience has been with my sewing projects. (This post contains affiliate links, which means that if you click on one of the product links, I could receive compensation when you purchase.)
1. Oliso TG1600 Smart Iron Pro
A Christmas present from my family this year was this Oliso iron. I am so in love with it! It has 'iTouch' technology, which basically means that if your hand isn't on the handle, it has little feet that prevent the iron plate from touching the surface. For a quilter, when ironing your seams, you'll find this little feature quite useful. For a better explanation, take a look at this vid …
http://youtu.be/_EO9MiLLV7E
2. Clover Clips
Clover clips have saved me so much time already! I've only been using them for a month or two and I can't tell you how much I love them. I have 2 sizes, the small red ones, and a pack of the jumbo purple ones (these say they are ideal for knitting and crochet, but I use them when sewing).

It isn't the cutest thing in the world, honest. Definietly not as adorable as a pincushion, but it works so well to corral all of those pins. I don't stick myself when picking up a bunch at a time either!
I always enjoyed cutting fabric. There was something therapeutic about it. When I first tried using the rotary cutter and mat, I didn't really like that it took away those motions of cutting with a scissor. There were so many lines, it was almost confusing to figure out what I should be lining up with what.
While it takes some practice, once you get the hang of it, you will be able to cut lines straighter than ever. I think it is actually one of the most important tools you can have. It will save you time and heartache when you sew. Cutting a straight line with a pair of scissors is very hard to do, but if you use a rotary cutter, mat and ruler, you will produce more consistent sewing… and that is very important when crafting a quilt.
Why Olfa? It was the brand that I started with, and in the meantime I've used other brands replacement rotary blades. They do not last as long as Olfa blades. If you cut fleece or minky fabrics, you will find out how quickly the Fiskars blades dull.
5. Omnigrid Rulers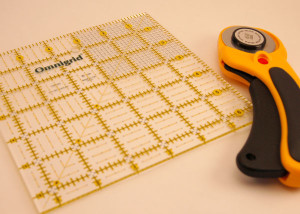 When you use a rotary cutter and mat, you will need a straight edge to run your rotary cutter along. A clear ruler allows you to see the fabric underneath when cutting which helps immensely when trying to fussy cut or match up a pattern. My favorite are the Omnigrid brand because there is great consistency between their rulers and mats. It sounds odd, but there can be minuscule differences between your clear ruler and your cutting mat and if that occurs it will give you lots of headaches. When your rulers and mats are made by the same company, there will be less chances of that happening.
6. Sewing Machine Needles
You might be wondering why needles are on My Favorite Things list, and really it has more to do with the source for buying the needles than the needles themselves. I discovered that you can buy 100 Organ needles on Amazon for under $10! My local quilt shop sells them for something like $5-8 for 5 needles. That is quite a bit of savings.
7. Sewing Machine Accessory Bible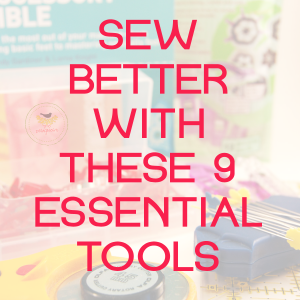 I sewed for years and never changed the foot on my sewing machine! I could kick myself for that. Oh, the frustration and disappointment that could have been avoided. This book shows you clearly how you can use most of the sewing machine presser feet that come with your machines. I will warn you though, you will probably want to buy another presser foot by the time you are done browsing through this book! (I think the cover has been updated for this book so it may look different if you order it.) It is one of the great sewing books for beginners!
9. Craftsy Quilting Classes
I LOVE Craftsy! Love, love, love it! It is such a great website for learning not just quilting, but all kinds of crafty things. Sewing, knitting, fine arts, cake decorating, and more. The concept works so well with my lifestyle. I can't take project classes at my local quilting store because they never fit into my schedule. I usually end up sewing late at night or early in the morning and to be able to access these classes whenever it is convenient to me is perfect. Beyond that, the instructors who teach them are top notch!
I got started with Craftsy by taking the 2012 Block of the Month class which was free. I talked about that experience in my Quilting for Beginners post.


Hi, I'm Robin, founder of The Designest, the place for tutorials, printables, and ideas to inspire you to create. A wife, mother, entrepreneur, and a true maker at heart. Most days you will find me in my studio listening to Spotify & making products for The Designest Shop.