Looking for a little inspiration to get you started on your next rag quilt? You've come to the right spot. Sometimes all it takes is  a photo to spark our imagination or to give us an idea for our next quilting project.
I know I am inspired to make one of these gorgeous flag rag quilts this summer.  It might just be my next project. 😉 However, I'm trying really hard not to buy any more fabric. I tend to steer clear of reds, so I know I don't have much to choose from there. Uh oh, I might just HAVE to buy a few fat quarters. You guys know how this goes right?
The first rag quilt I'm featuring in this collection was made by Cheryl Maynard. She did a beautiful job of using different red, white & blue fabrics. This would be a great gift idea for dad or a veteran!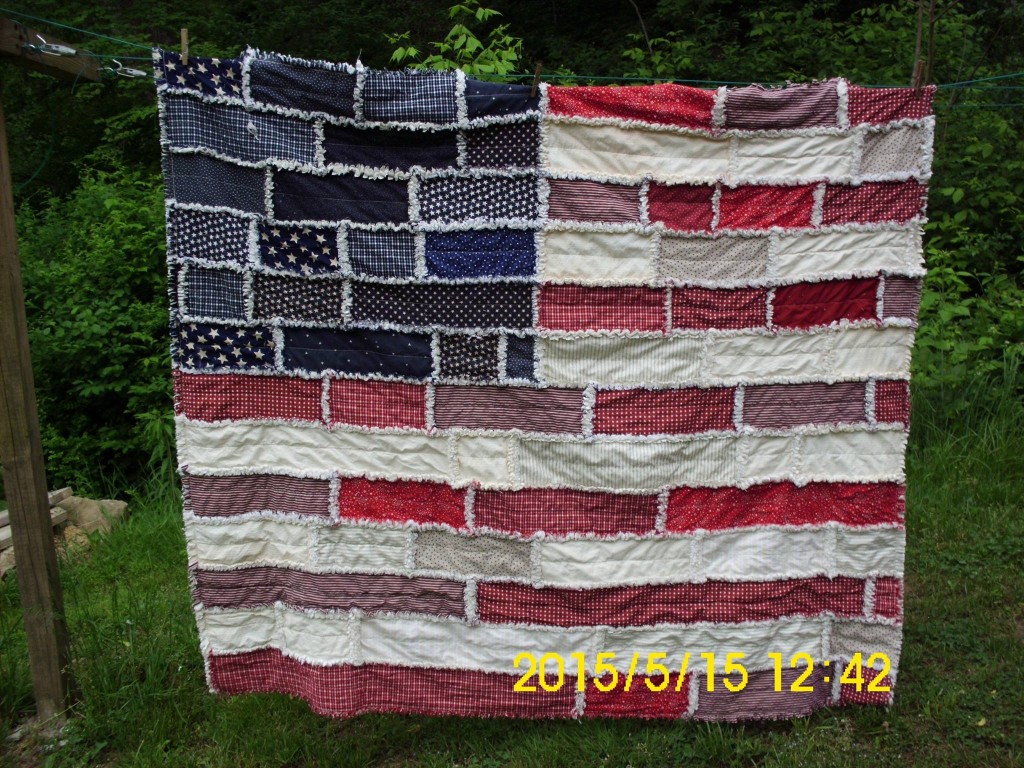 And here is another one from Cheryl with more detail…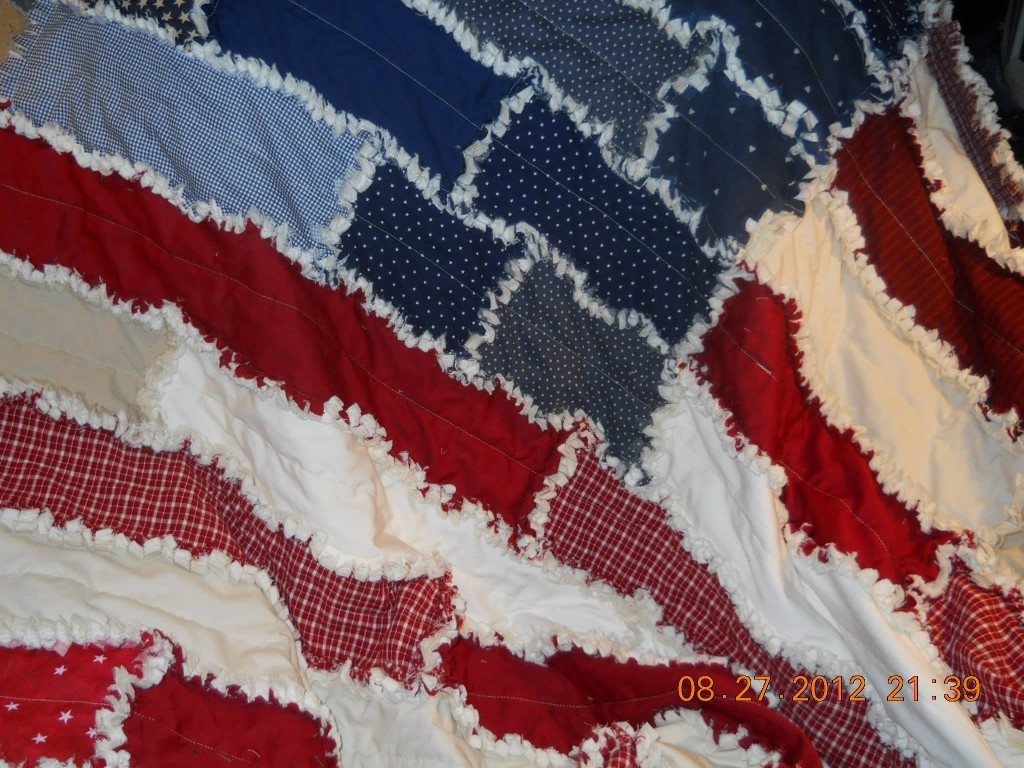 Made by: Cheryl Maynard
I tend to get a lot of questions asking about using different kinds & colors of fabrics in a rag quilt. It's hard to know what will turn out and what won't. This next rag quilt is made in a traditional square pattern, however she used a black backing which gives each block a nice outline and frame.
Made by: Joleen Keough, Twisted North,facebook.com/twistednorth1
The next one is my own pattern that you can find here. I created this rag quilt pattern after discovering my love for making half-square triangles for another quilt. I combined a traditional quilt piecing technique with a rag quilt finish to make this chevron rag quilt. If you like to make traditional quilt pieced blocks, you might try turning them into a rag quilt.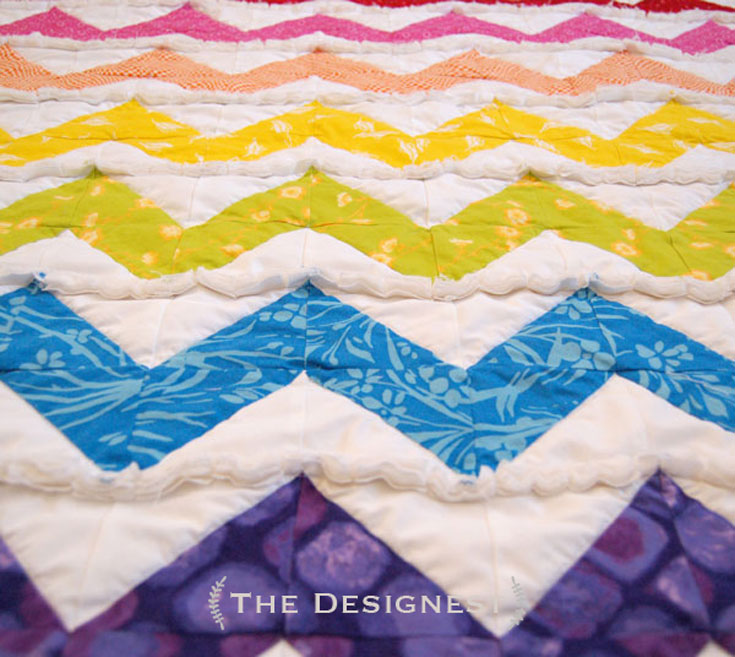 In the crafting world, you'll always find more than one way to make anything, and that's true for quilting as well. This is another way to make a chevron rag quilt. I love the pointy edges on this one!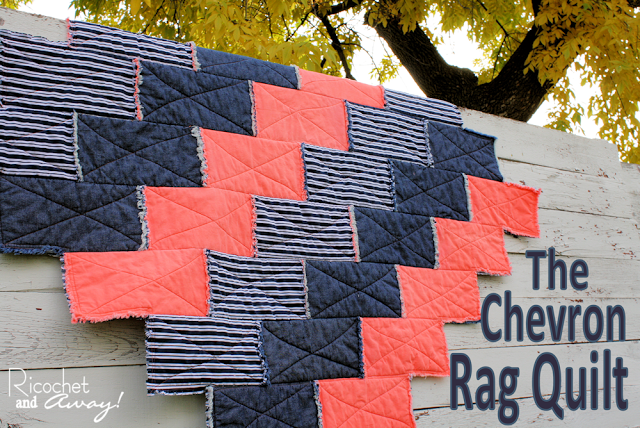 Made by: Rikka at Ricochet and Away 
If you're not up for a flag quilt, but want to get a patriotic feel, take a look at the gorgeous bandana rag quilt here. I love the simplicity of this one.
And a more feminine  version – collected vintage hankerchiefs
Made by: ZeedleBeez at www.etsy.com/shop/ZeedleBeez, Blog Name -> zeedlebeezmom.blogspot.com/
Now, for the little boys in your life, this camo owl shaped rag quilt is ADORABLE! Made by MrsCQuilts (she's no longer making them for sale). I'm pretty sure you might be able to find the Simplicity pattern on ebay or Etsy.

Made by: MrsCQuilts at facebook.com/MrsCQuilts
You can even use the traditional square method & shake it up a bit. Peggy used a larger middle panel and framed it with the square blocks.  She also has an embroidered phrase to go along with the Honey Bee theme of her quilt. Really nice job of combining techniques in this quilt.
Made by: Peggy Ritter at Arrivingangels.etsy.com 
Hopefully you've been inspired to start a rag quilting project from all of these ideas! If you've never made a rag quilt before, check out my rag quilt tutorial.

Hi, I'm Robin, founder of The Designest, the place for tutorials, printables, and ideas to inspire you to create. A wife, mother, entrepreneur, and a true maker at heart. Most days you will find me in my studio listening to Spotify & making products for The Designest Shop.