From monograms to quotes, you see letters in all sorts of designs. Today I wanted to show you how you can sew on letters to a pillow, or any fabric. It's a fairly simple technique that doesn't require an embroidery machine or a die cutter.
So let's get started.
Fabric Letters
First you are going to need to print out your letters. You can use the file I provide below, or you can create your own and use any letters in any font that you have installed on your computer. A good font style for using to sew on letters is one that is fairly thick. Leave those scripty, thin fonts for something else! I chose this font because it has some detail to it, but it's still a heavy weight.
Print Dad Pillow Applique File
This font is called Amazinga. I just used my program to mirror the letters. You can print your own letters from any word processing program.
Next you will need to prep the fabric that you are going to cut your letters out in. Fusing a piece of stabilizer onto it. You can use a double sided stabilizer like Heat & Bond Lite, or you can use a single sided stabilizer like the Pellon Ultra Lightweight Interfacing.
If you aren't familiar with stabilizers, what they do is make your fabric sturdier so that when you go to cut the letters out, the edges won't fray and you can get a clean edge.
A double sided stabilizer will have adhesive on both sides so that you can iron it on to the fabric you will use for the letters, and then after you've cut them out, you can iron it onto the other fabric. Even if you iron them on, I recommend going over it with an appliqué stitch as shown below.
A single sided stabilizer will have the same purpose, but you won't be able to iron the letters to your base fabric after cutting them out.
Once you've ironed the stabilizer to the fabric (in this case I used the charcoal grey felt), you can use a spray adhesive like the 505 Spray Fix to adhere the printed paper on. (If you've printed your own letters and they are not mirrored, place them face down in this step. You should still be able to see through the paper where you need to cut.)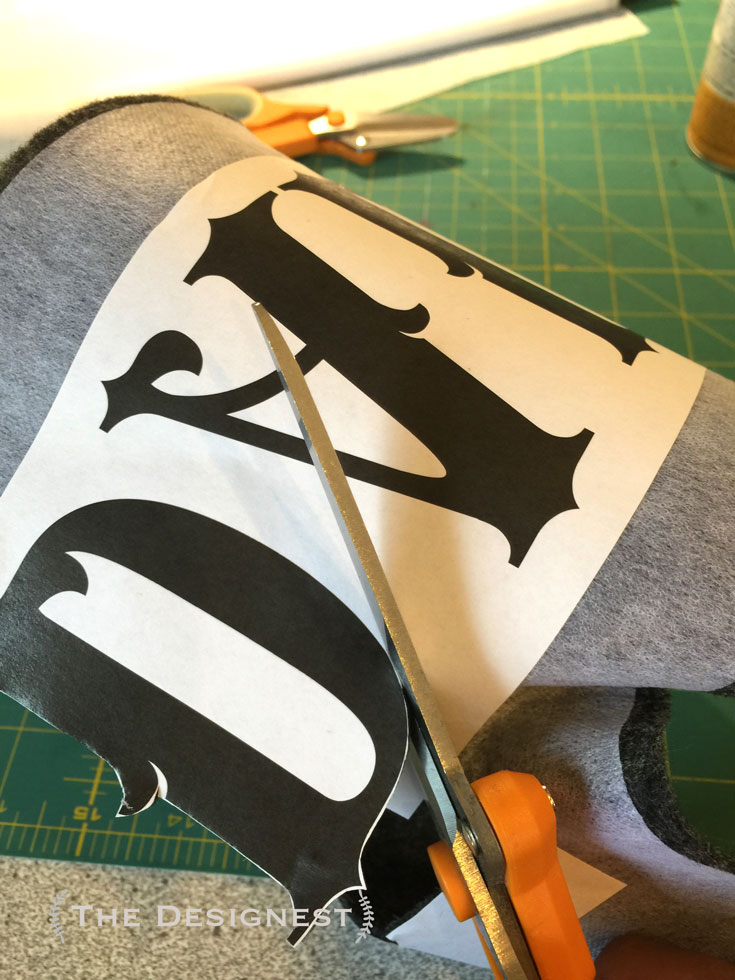 Then you will want to have a pretty sharp pair of scissors on hand to accurately cut the letters out.
When you've got all of them cut out, you can remove the printed paper layer.
If you didn't use a double sided stabilizer, lay your letters out on a piece of scrap paper face down and give them a quick spray of the 505 spray. This helps them to stay in place when you are sewing the appliqué stitch.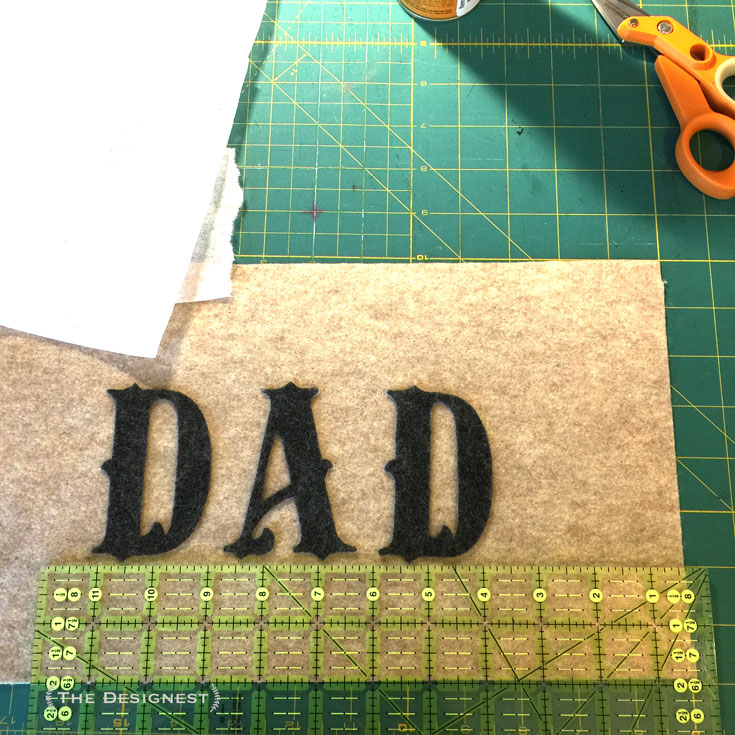 Sew on Letters
Using a straight edge or ruler place your letters down on the piece of fabric you want them sewn on to. The straight edge is there to keep them from getting wonky.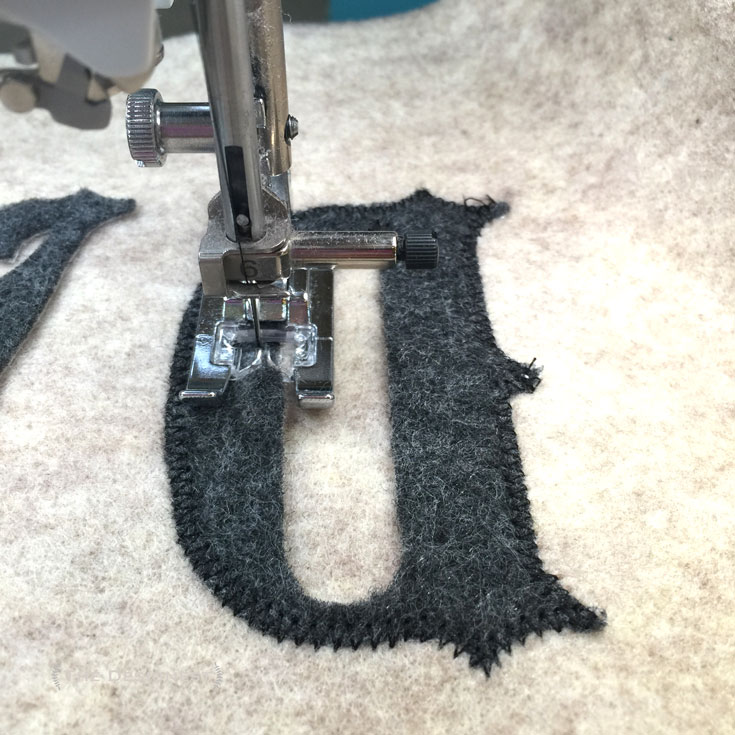 Once your letters are placed, you can take it to the sewing machine, select a zig zag stitch and adjust the width until you get it to the size that you would like. (Tip: test out the stitch on a scrap piece of fabric before starting on the letters. Adjust width and length of the stitch if necessary.)
Here is a quick video on the zig zag part ….

When you put the fabric & letter under the needle you want to be sure to zig zag from the top of the letter to just outside the edge of the letter, and try not to go too far over the edge. That will give you a cleaner edge to the letter.
Go slow and lift your presser foot to adjust the angle of the fabric when needed.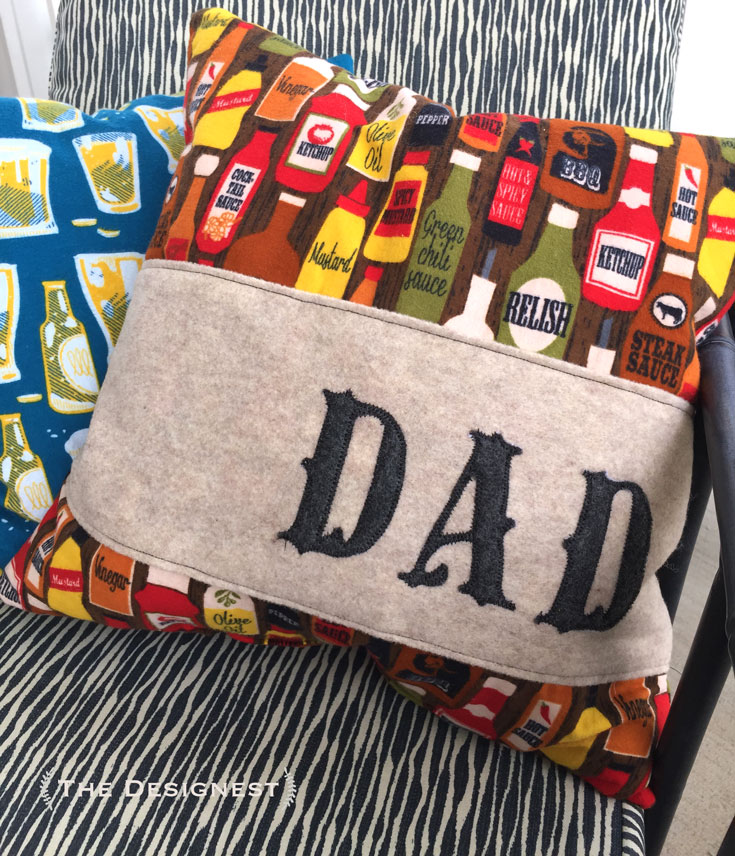 That is it! A few things to remember …
——>  You can use any letters / numbers / symbols / shapes in this same method.
——>  You want to stay away from fonts and shapes that are too thin and/or too delicate.
If you want to see how I made the pillow, head over to this post on A Handmade Gift for Dad.

Hi, I'm Robin, founder of The Designest, the place for tutorials, printables, and ideas to inspire you to create. A wife, mother, entrepreneur, and a true maker at heart. Most days you will find me in my studio listening to Spotify & making products for The Designest Shop.