Making a rag quilt was one of the first quilting projects I tackled when I first started sewing again. There are so many things that I love about them, but the best part is that they don't require too much thinking. All of your cuts are the same, and you only sew straight lines. Rag quilt instructions are really quite simple, but I hope this tutorial makes it even easier for you.
The most difficult part of making a rag quilt is deciding on your fabrics. If you have just a few fabrics that you are working with, you will want to draw out your design on a piece of paper to figure out how you want the blocks to lay in the pattern. If you are wondering what kind of fabrics to use to make a rag quilt, check out this post —> Best Fabrics for Rag Quilt
Here are a few example rag quilt patterns using 2 or 3 different fabrics: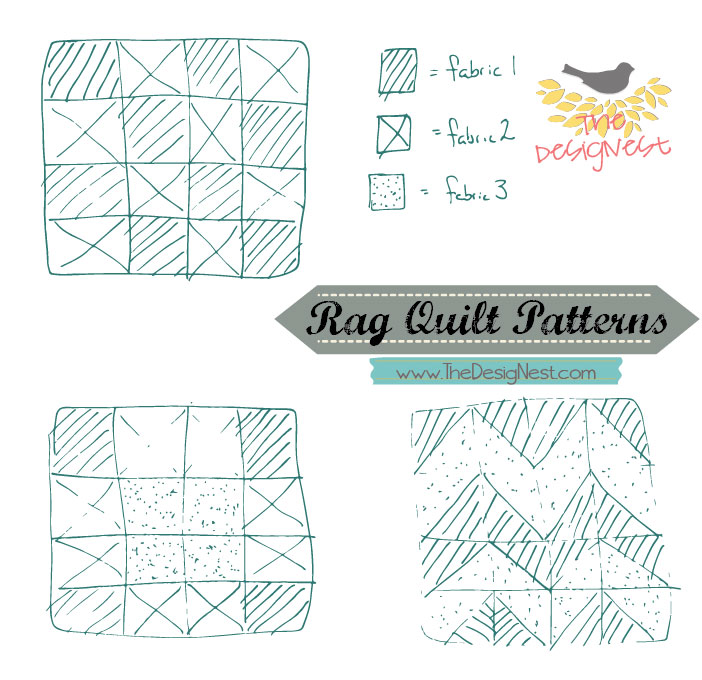 If you are using a charm pack of pre-cut fabric squares, then you will want to use your eye to lay out the squares once you have them sandwiched together.
How to make a rag quilt
Before you get started, the other thing you need to know is the number of squares you will need to cut and sew in order to get the quilt to be the size you want. This sounds pretty simple, but can get confusing. Refer to the chart below to figure out the total number of fabric squares (the number you need of each fabric depends on the quilt pattern you decide upon).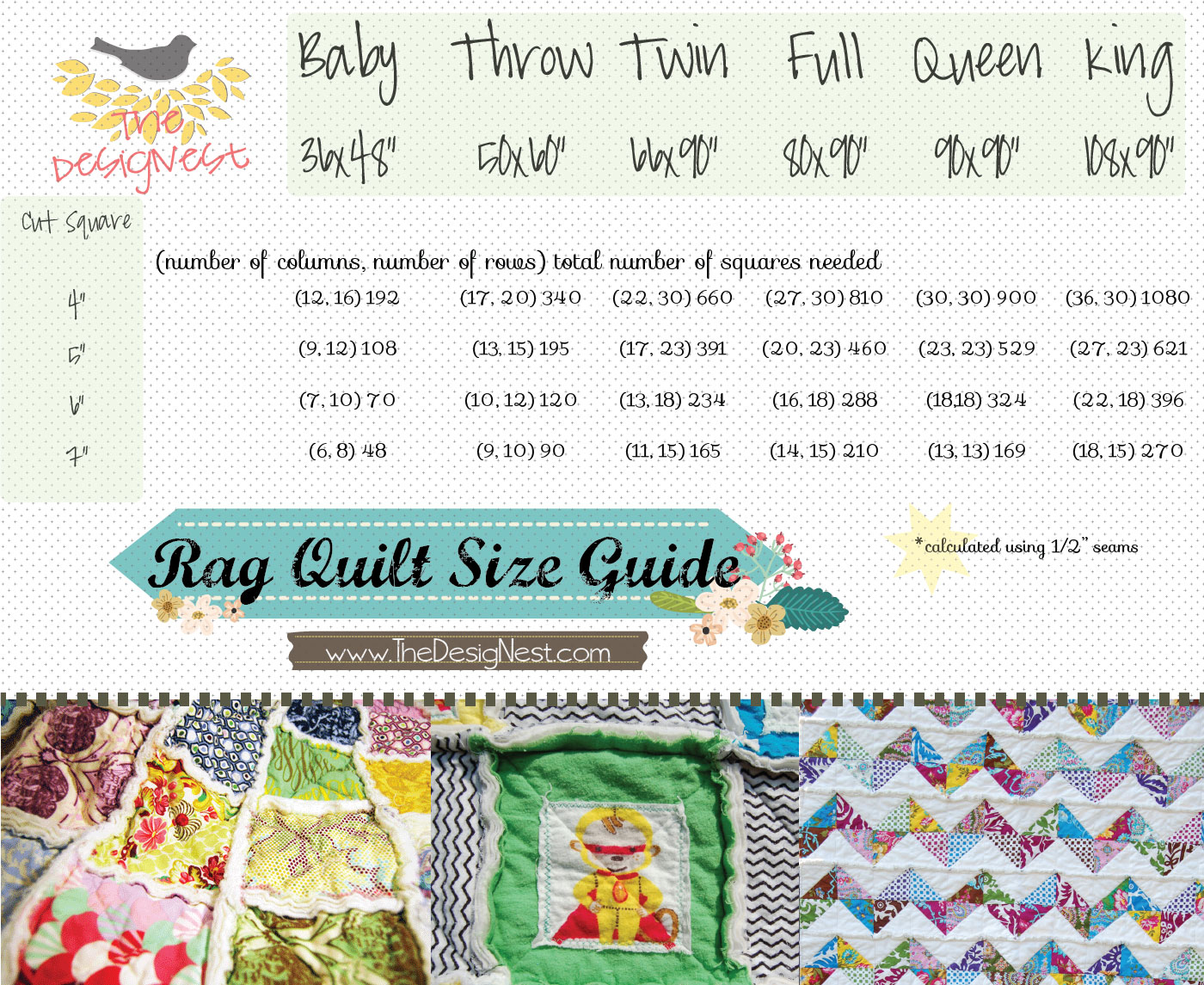 You probably noticed that the smaller the squares and the larger the quilt, the more cutting and sewing you will be doing! I like to work with a 6″ cut square most often, but that is just my personal preference, and there is no "standard" size, so pick the one that you want to use.
Now is a good time to also think about what you want to use as a batting (the part that is sandwiched between your face fabrics and the backing), and what fabric you want to use for the backing. My preference is to use all natural needled cotton batting, but many others like to use a flannel. For the quilt back, I most often use muslin. Other options would be a solid color, a printed cotton, or even a fleece or minky fabric. (I caution new quilters on using fleece or minky as it is harder to work with.)
So now that you've decided on fabrics, size, and pattern for your rag quilt, it is time to get to work.
How to make a rag quilt
CUT: face fabric, batting, and backing fabrics to the size you determined that works best for you – you will need the same number for all of them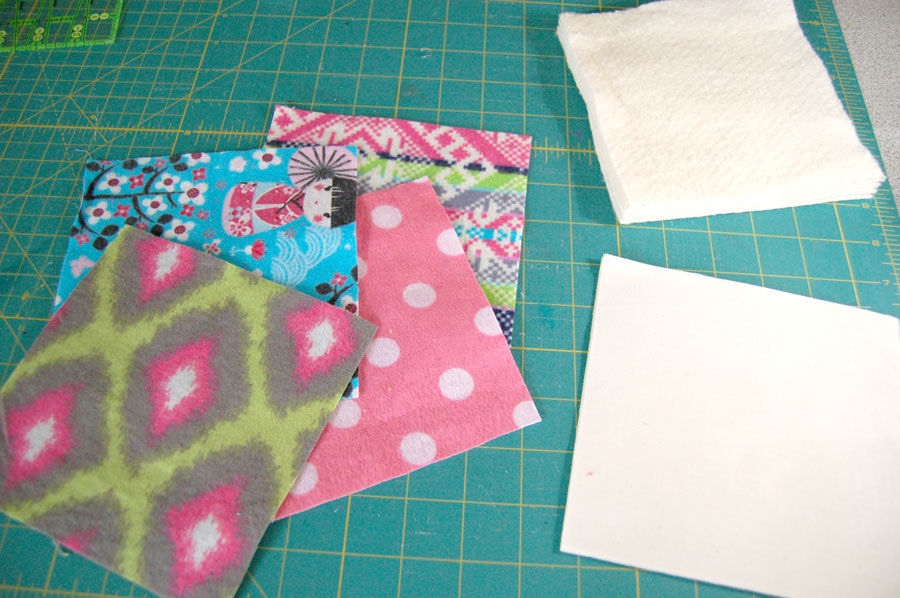 SEW: make little quilt sandwiches and start sewing from one corner diagonally to the other corner, making an X on the quilt square. (To save time, you can 'chain piece' these.)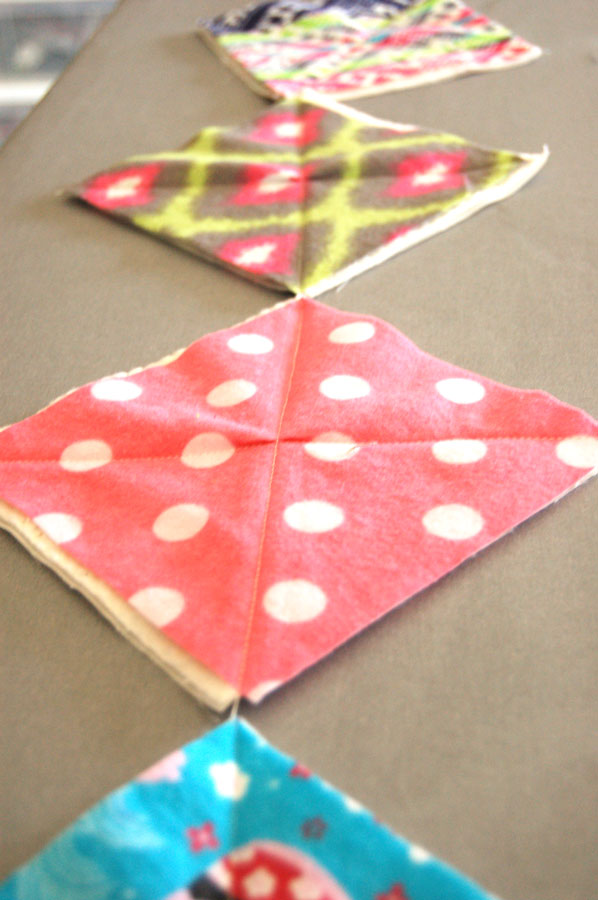 Once you have all of your quilt sandwiches 'X'ed, lay them out in the pattern you decided on. When you lay them out, keep in mind that the finished quilt will be much smaller than what you see now.Take the first 2 squares and put the wrong sides together. Sew a 1/2″ seam. (You want to see your seams exposed! It feels wrong when you are sewing it, but that is actually right.)
Keep adding on to this row until it is complete.
Start your next row, and so on until you have completed all of the rows in your quilt.
Now you will sew your rows together. At this point, you will be sewing through a lot of layers and I definitely recommend using a walking foot. With my first couple rag quilts, I didn't use a walking foot because I was too scared of it. Now, I won't sew one with out it. It really does help with moving all of these layers of fabrics through your machine. Even though I now have the Baby Lock Unity machine with the Digital Dual Feed Foot (read: giant walking foot), I've made plenty of rag quilts with this traditional walking foot.
Instead of a traditional 1/4″ seam, you want to use a generous 1/2″ seam allowance as this is what will fray nicely when you're finished.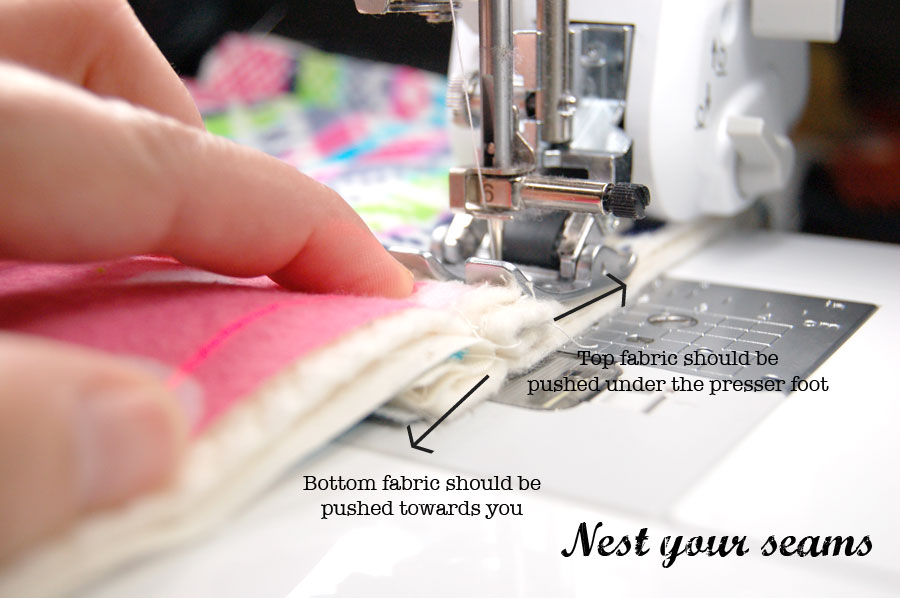 There is one tip that I want to share with you when it comes to sewing the rows together. You need to make sure that where your seams meet, you are opening the seams so that they 'nest'. The easy way to do this is to let the machine push the bottom seam out towards you while you feed the top seam under the presser foot.
When you've all of your rows sewn together, you can see it is almost a finished rag quilt!
Now you want to sew a 1/2″ seam around the outside edges. After that you get to start snipping the ruffles. I do relief cuts at the corners, but I don't like to put a lot of ruffles into the seams. It just depends on the look you want to achieve. You can see the rag quilts in The DesigNest Etsy shop that do not have a lot of cuts in them. But if you want a lot of fraying, you will want to cut the seams every 1-2 inches.
As you can imagine, there will be a lot of cuts that you need to make. Make sure that you have scissors capable of handling cutting through all of those layers. I like to use these Fiskars scissors (affiliate link) because they have a shorter blade and it allows you to see what you are cutting. It also requires less of a grip to cut all of those layers. If you have shoddy scissors, your hands will let you know quickly!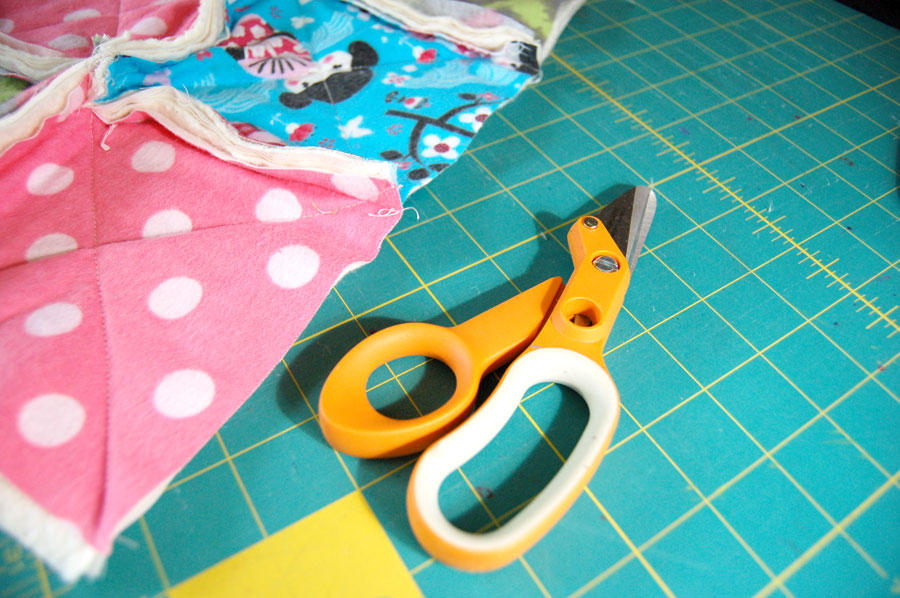 The last step is to throw it into the washer & dryer. When it comes out of the dryer, it will have started the fraying process and you will be ready to snuggle up with it or wrap it up as a present.
Here a couple pictures of rag quilts I've made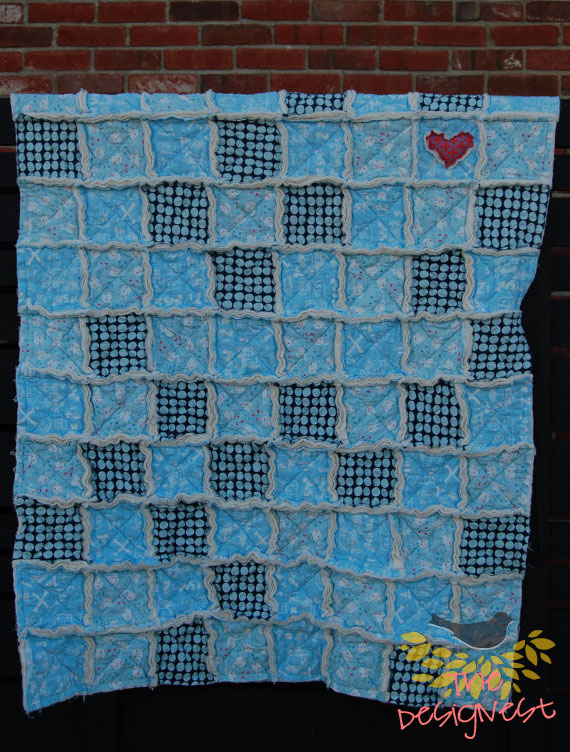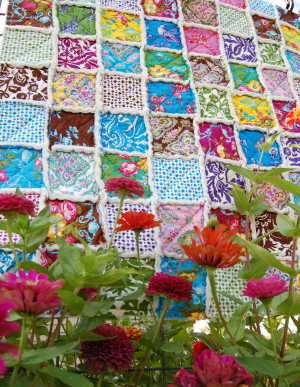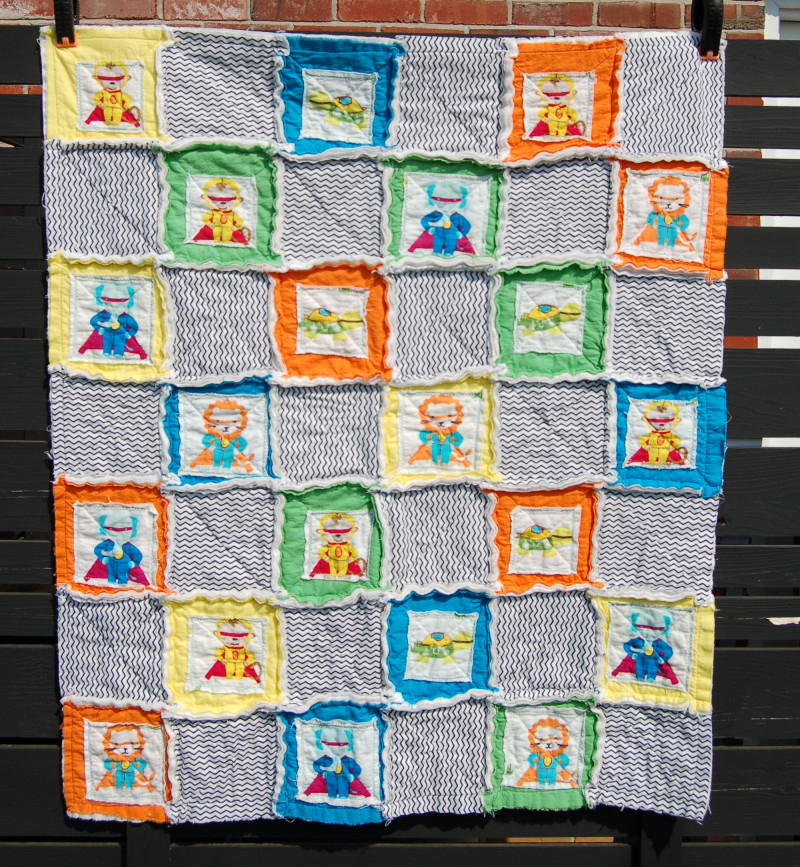 And I've created this Chevron Rag Quilt Pattern that is for sale on Etsy & Craftsy: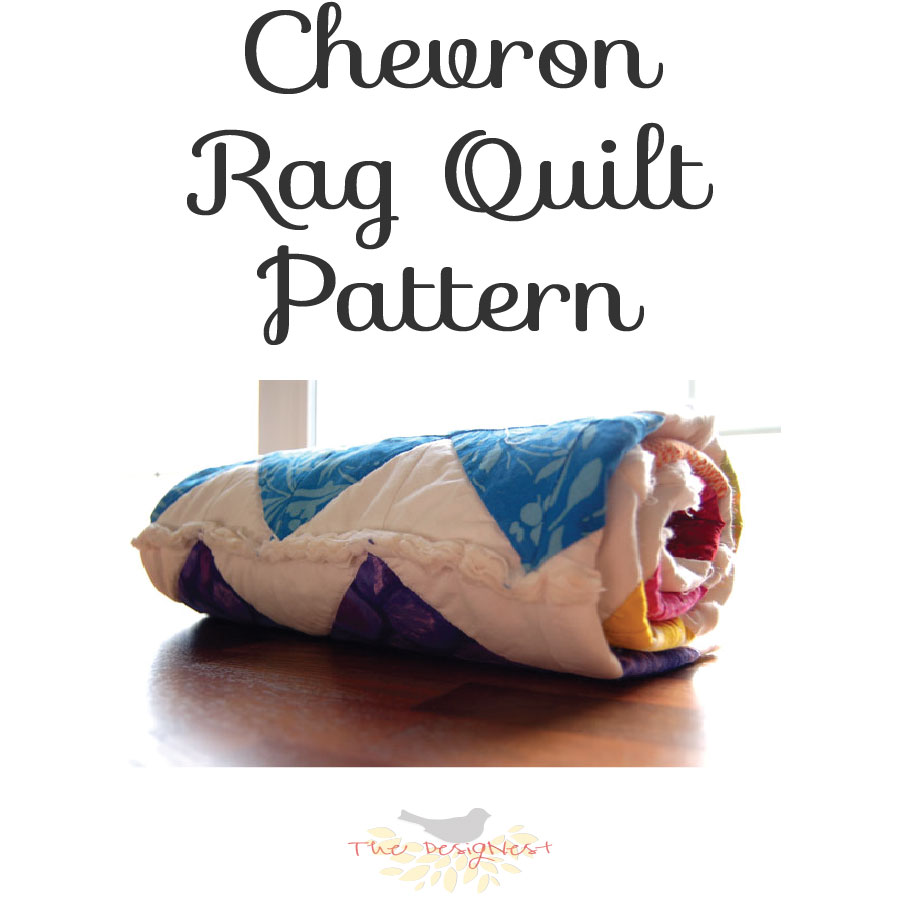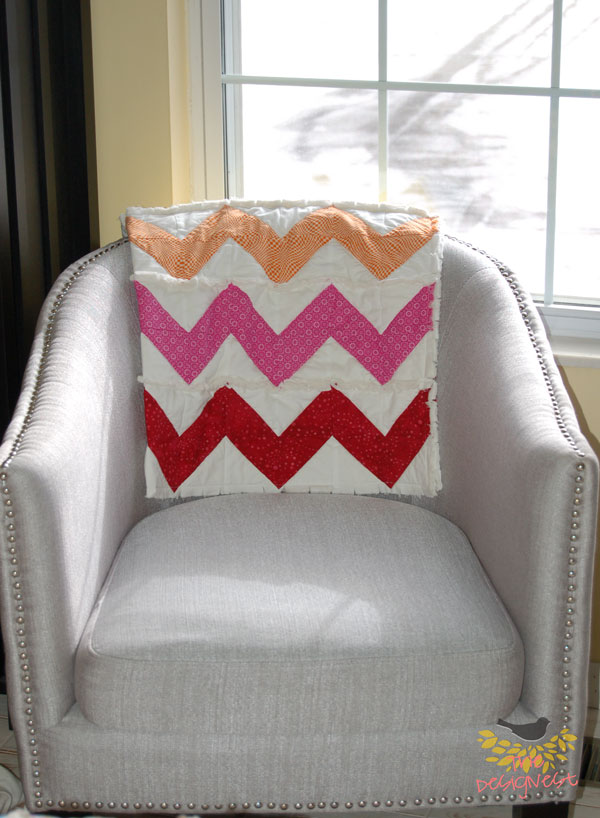 Linking up to:
SaveSave