Since writing an earlier post / tutorial on How to Make a Rag Quilt I've seen a lot of keyword searches looking for the answer to what kind of fabric is used in a rag quilt. So I thought I would address the question here.
Rag quilts get their name from the raggy look that they get from the frayed & exposed seams on the front of each quilt. With each washing they take on a well loved warm quilted look.
A rag quilt consists of 3 layers – your face fabric, the middle, and your backing.
(This post contains affiliate links, which means that if you click on one of the product links, I could receive compensation when you purchase.)
Top of Your Rag Quilt
For your face fabric, the kind of fabric you want to use is one that will fray – flannel fabrics work really well, as do regular cotton fabrics.  How many different fabrics you use and the way in which you arrange them are completely up to you. You can go scrappy and use 20 different fabrics from your stash or use just one or two fabrics.
Even though a fleece fabric doesn't fray, it can be used in a rag quilt. It will have a different look than a traditional rag quilt in that it will look a little bit like ruffles when you cut the seams into ribbons. The same goes for using t-shirts.
Middle of Your Rag Quilt
There are a couple options for the middle of your quilt sandwich. I like to use 100% cotton needled batting, but a lot of people prefer to use a piece of flannel in the middle. If you do use flannel in the middle, you can use a contrasting color that gives the quilt a different look. I prefer the cotton batting because I like the weight of the quilt that results from using it over flannel.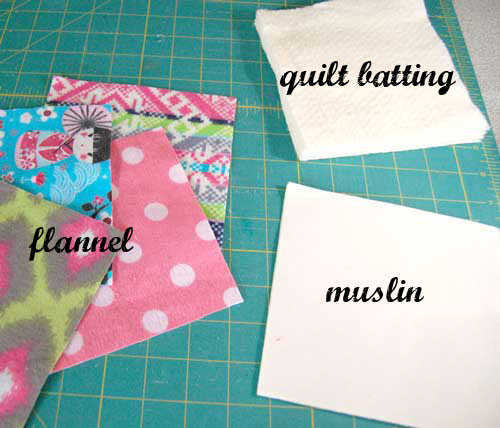 Back of Your Rag Quilt
Traditionally the backs of quilts are very plain. This is because a lot of times it isn't seen and so there isn't as much time and expense wasted on the back of a quilt. These days modern quilters are using the backs of a quilt as a second opportunity for creative expression so more thought and effort is being made.
You have a few options for fabrics on the back of a rag quilt. I tend to use muslin. I have a lot of it on hand and it goes well with everything. However, I have used flannel before and that turns out lovely and soft. You can also use a Minky fabric, which is a super soft fabric. It is used a lot in baby blankets. If you have not used a minky fabric before, I recommend trying it out with a smaller project as it does come with some challenges. Of course Fleece fabric can also be used on the back of a rag quilt.
If you need rag quilt instructions, take a look at my post here. Or, if you want to see some of the rag quilts I've made take a look here.
I also have some flannel charm packs in my Etsy shop that are already washed, dried, cut & ready to sew.