A while ago I wrote about repurposing wood wine crates for wall shelves & even posted about it. It's been a pretty popular post & I wanted to show you guys some more projects I've completed using them.
Simple Wine Box Serving Tray
This was super easy to do! One of the wooden wine boxes that I had was a fairly shallow one. It was in nice condition too so I didn't see the need to paint or do anything to it really. I did rub some hemp oil on it to condition it. It was raw wood really, and it had been sitting in my garage for quite some time waiting for me to do something to it. The hemp oil brought out a nice warm tone to it as well.
After I did that, I ran to the hardware store to pick up some simple cabinet pulls. I didn't want anything too fancy or specific because the star of this show is the box itself, not the handles. The oil rubbed bronze worked well with the warm wood tones & the wood branding of the logo & wording on the box.
A very easy project! Just one tip – when you are at the hardware store picking up the handles, swing by the aisle with the different size screws. You are probably going to need one that is shorter than the screw that comes with the cabinet pull. (Or use a hacksaw and trim your screw to size when you get home. Just be careful & don't cut your finger off!!)
Chevron Painted Wine Crate
For a school auction, I made a little collection of room decor items that had the school logo on it.
The chevron painted box was pretty easy to do because I used the chevron frog tape.
First painted the box Simply White chalk paint from the CeCe Caldwell line.
Then I used the chevron tape to tape off the area that I wanted white.
I finished it with a flat black latex house paint.
When I peeled off the chevron frog tape there were a few areas where the black paint bled through underneath of the tape. It was an easy fix because when I went back to fix it with the white chalk paint it covered really well (one of the benefits of chalk paint!)
To prevent yours from bleeding, after you put your tape down, quickly take your paint brush and paint over the seams of the tape with the color that you are taping off (in this case it would be the white). That will help prevent the other color from bleeding through underneath.
You can use this as a storage box on a shelf, under a bed, or prop it up on it's end – stack some books in it and use it as a nightstand. Or, hang it on the wall for a cute shelf (shadow boxes for awards & keepsakes). One more idea … add a few knobs and hooks inside of it and it would be a great place to hang jewelry.
Chalk Painted Wine Crate
This wine crate was chalk painted and it was done for the school auction as well. It made a perfect gift box that we were able to use to put together a great basket.
We had a craft night at school to make and repurpose things for the silent auction section. It was the first introduction to chalk paint that most of them had. (Thanks to Maria Price Designs of St. Louis, who donated some jars of the CeCe Caldwell paints!)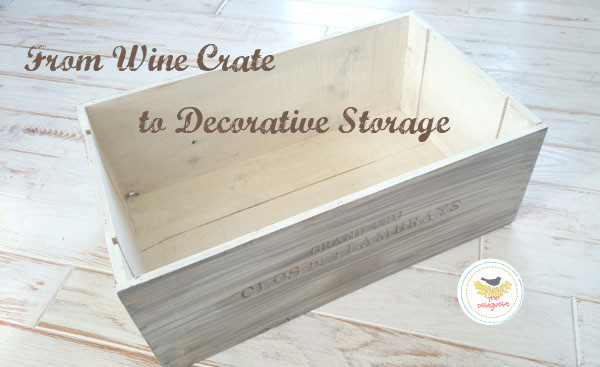 Vintage White was the first coat used on the wine crate and then a quick wash using a very watered down Vermont Slate. It made the wonderful  lettering wood press of the wine brand stand out. A little 'wet sanding' to finish it off. It turned out so lovely! Sealed it with the clear wax & it was done.
If you missed the first post I did where I made some for storage shelves in my studio, here they are…
Linking up to Family HOme and Life and

Hi, I'm Robin, founder of The Designest, the place for tutorials, printables, and ideas to inspire you to create. A wife, mother, entrepreneur, and a true maker at heart. Most days you will find me in my studio listening to Spotify & making products for The Designest Shop.